The UN's nuclear agency says Iran continues its uranium-enrichment program despite the UN Security Council's demand that it stop. Immediately after the International Atomic Energy Agency (IAEA) report to the Security Council on August 31, Washington sharply criticized Iran's defiance. The United States said it will now seek support from other Security Council members for sanctions to force Iran to comply.
Moscow Calls For More Diplomacy
But Russia has so far been more circumspect.
Russian Foreign Minister Sergei Lavrov said in a speech at the Moscow State Institute of International Relations (MGIMO) today that dialogue with Iran, not isolation, remains the best course.
"A country capable of producing its own nuclear fuel can also overcome sanctions," Iranian President Ahmadinejad said on August 29.
"From the point of view of international law and as well as common sense, the policy of isolation of one or another player on the international scene is not irreproachable," Lavrov said. "On the contrary, [in resolving] present disputes it is necessary to involve all countries -- including those that have issues [to be resolved] -- in dialogue -- to seek a solution through dialogue, not through isolation and sanctions."
That early response underlines the divisions among the five permanent Security Council members, who must now try to find a united position on how to respond to Tehran.
Throughout the crisis over Iran's nuclear activities, the United States and Britain have pressed hardest for punitive measures.
They were recently joined by France, Russia, and China in setting the August 31 deadline. And -- along with Germany -- all five permanent members offered incentives to Iran in exchange for giving up enrichment and other controversial activities.
But Russia and China have also repeatedly said only a diplomatic solution can resolve the crisis.
That leaves it uncertain if they would now support imposing sanctions or, if they did, how severe those sanctions would be.
Europe Also Tends Toward Engagement
France, too, has left its position ambiguous. French Foreign Minister Phillippe Douste-Blazy on August 31 "deplored" Iran's "unsatisfactory response" to the deadline. But he said negotiations with Tehran should continue.
Now, there will be a flurry of meetings as all sides try to determine how to proceed.
EU foreign ministers holding an informal meeting today in Lappeenranta, Finland, are discussing Iran, among other subjects.
Finnish Foreign Minister Erkki Tuomioja told reporters there that EU-led "diplomacy" remains the first choice.
"I think we are still, all of us, wanting to engage Iran seriously, and if their response is truly what they say, that they are ready to engage in negotiations, then we have to see what the conditions are, if this can be met. European Union diplomacy remains the number one way forward," Tuomioja said.
Reuters quotes unidentified officials there as saying the top EU diplomats favor more dialogue with Iran rather than immediate sanctions.
Next week, EU foreign policy chief Javier Solana is due to meet top Iranian nuclear negotiator Ali Larijani in Europe.
Immediately afterward, European diplomats are expected to meet in Berlin with Washington's top diplomat in the nuclear crisis, Undersecretary of State Nicholas Burns.
Iran Insists On Its 'Right To Enrichment'
Iran says it is ready to negotiate over the crisis. But Tehran insists on its right under international treaties to engage in all aspects of a nuclear-energy program -- including uranium enrichment.
"But [Iran's enemies] should all know that the Iranian nation will not yield to pressure and aggression even a bit and will not accept any violations of its rights," Iranian President Mahmud Ahmadinejad said on August 31.
Ahmadinejad also said on August 29 that Iran is not daunted by threats of sanctions.
"A country capable of producing its own nuclear fuel can also overcome sanctions," Ahmadinejad said. "We are capable of defending our rights and are prepared for all possible scenarios."
Where The Conflict Stands Now
The August 31 IAEA report also faults Iran for continuing a pattern of partial disclosures and of minimum cooperation with the nuclear watchdog agency.
The IAEA, backed by the Security Council, has demanded Iran demonstrate that its nuclear activities are purely for peaceful purposes, as Tehran claims.
The United States and European countries contend that Iran is pursuing weapons-development activities under the cover of its nuclear energy program.
Uranium enrichment can be used to produce nuclear fuel or, at high levels of enrichment, material for nuclear bombs.
What The Street Thinks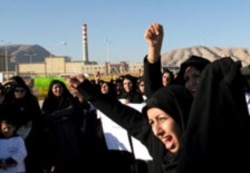 A demonstration in support of Iran's nuclear program outside the Isfahan uranium-conversion facility in Isfahan in January (epa)

IRANIANS SPEAK OUT ON THE DISPUTE: To find out more about what Iranians think about the international controversy over their country's nuclear program, RADIO FARDA asked listeners to express their views....(more)
See also:
Iran: Public Has Mixed Feelings On Nuclear Issue

THE COMPLETE PICTURE: RFE/RL's complete coverage of controversy surrounding Iran's nuclear program.
CHRONOLOGY
An annotated timeline of Iran's nuclear program.