Kurdish Leader Bans Iraqi Flag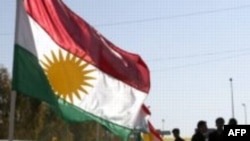 (AFP) September 1, 2006 -- Massud Barzani, the leader of Iraq's northern autonomous Kurdish region, today issued an order not to fly the Iraqi national flag.
Barzani's office said that public offices in Kurdistan flying the Iraqi flag "should lower it and hoist only the Kurdistan flag."
(AFP)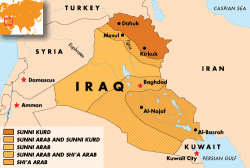 Click to enlarge the image.
SUNNI, SHI'A: Iraq is riven along sectarian lines, faults that frequently produce violent clashes and are a constant source of tension. Sectarian concerns drive much of Iraqi politics and are the main threat to the country's fragile security environment.


THE COMPLETE PICTURE: Click on the image to view RFE/RL's complete coverage of events in Iraq and that country's ongoing transition.