Abu Ghraib was used by former Iraqi leader Saddam Hussein to torture his political opponents, and after the U.S.-led invasion, it came to symbolize the abuse of some Iraqi prisoners by U.S. soldiers.
A government spokesman, Ali al-Dabbagh, said all prisoners from Abu Ghraib had been moved to a new detention facility.
The government was still deciding what to do with the prison.
In other news, Iraqi police says 14 pilgrims from Pakistan and India were killed on their way to the Shi'ite holy city of Al-Karbala on September 2. The pilgrims, who were traveling in a minibus, were ambushed in the western Al-Anbar province. Police said some of the pilgrims had their hands bound and had been shot in the head. Some had been tortured.
In a mainly Sunni area of northeastern Baghdad, two near simultaneous explosions killed at least two people and wounded up to 20 others.
The past week has seen the deaths of some 200 people in Iraq. In a report issued on September 1, the U.S. Defense Department said the "core conflict" in Iraq had changed to a battle between Sunni and Shi'ite Muslims and that this is overshadowing the insurgency.
(compiled from agency reports)

Sectarian Iraq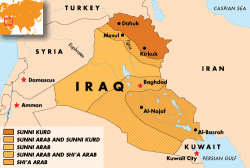 Click to enlarge the image.
SUNNI, SHI'A: Iraq is riven along sectarian lines, faults that frequently produce violent clashes and are a constant source of tension. Sectarian concerns drive much of Iraqi politics and are the main threat to the country's fragile security environment.


THE COMPLETE PICTURE: Click on the image to view RFE/RL's complete coverage of events in Iraq and that country's ongoing transition.