PRAGUE, September 2, 2006 (RFE/RL) -- About 120 Italian troops landed in the south Lebanese port of Tyre today, part of the first large contingent of international troops dispatched to boost the UN force since a truce between Israel and Hizballah guerrillas was agreed three weeks ago.
Italian marines, armed with machine guns and wearing blue UN berets, came ashore in helicopters and rubber rafts from the aircraft carrier "Garibaldi," the flagship of the Italian fleet. The remainder of an 880-strong battalion of Italian soldiers will land throughout the day.
Italian Defense Minister Arturo Parisi, speaking in Kosovo on September 1, acknowledged that "there are concerns because this mission is taking part in a territory that is still warm with the blood of many."
But Parisi, recalling that Italy has had soldiers in Lebanon since the UN's mission in Lebanon -- UNIFIL – began in 1979, said the expanded UN force is prepared to successfully carry out its mission. He said that would include maintaining contacts with Hizballah, the Shi'ite military and political movement targeted by Israeli forces and labeled a terrorist organization by the United States.
"In order to keep the peace, we've got to be able to have relations with all parties here," Parisi said. "In the past, these parties have clashed with each other. Now, it is our hope that they will get along peacefully."
Italy has pledged a total of about 3,000 troops.
The UNIFIL force previously numbered 2,000 and was focused mainly on observing and reporting in south Lebanon. But under a new UN resolution that set the terms of a cease-fire last month, the new UN force has more aggressive rules of engagement and will expand to 15,000 troops.
France, which will lead the new UNIFIL, will contribute 2,000 more troops. Spain has pledged more than 1,000. Poland, Indonesia, and Belgium have also said they are willing to take part.
Italy is expected to take command of the force's political structure at the UN in New York, while France is expected to continue to lead ground operations, at least until early next year.
Italian Prime Minister Romano Prodi, speaking on September 1 after meeting in Rome with French Prime Minister Dominique de Villepin, said that "the interests, experience, and relationships that Italy and France have had in [Lebanon] are a fundamental element that we must draw upon in order to build our common mission together in that region."
UN Secretary-General Kofi Annan has said Israeli forces who moved into south Lebanon during the war should fully withdraw as soon as 5,000 UN troops have arrived.
The French commander of UNIFIL, Major-General Alain Pellegrini, told reporters on September 1 that he expects to have 5,000 troops on the ground within two weeks.
Despite Israeli demands, the UN force has no plans to deploy along the nearby Syrian-Lebanese border to prevent the possibility of arms being smuggled to Hizballah from Syria.
Lebanese Army troops are expected to assume that task on their own.

The Middle East Crisis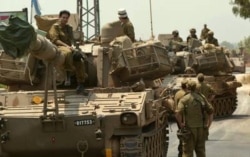 Israeli tanks poised on the border with Lebanon on August 2 (epa)
CLASH OF ARMS:
Since mid-July, Israel has been battling Hizballah guerrillas in southern Lebanon and carrying out punishing air strikes throughout the country. International efforts to broker a cease-fire have met with one obstacle after another, as civilian casualties mount and a humanitarian crisis unfolds. Since Hizballah is closely supported by Syria and Iran, the conflict threatens constantly to develop into a regional conflagration....
(more)
RELATED ARTICLES
Israel Steps Up Assault Despite Hizballah Warning
'We The People Are The Big Losers'
Iranians 'Volunteer' To Help Hizballah
Lebanon Cancels Talks After Bloody Qana Attack
The World Searches For An Elusive Solution
Analyst Says 'U.S. Needs To Talk To Syria, Iran'