PRAGUE, September 4, 2006 (RFE/RL) -- An artisan lightly taps her wooden mallet to tamp down another row of just-completed, hand-tied knots. To her rhythm, a long, richly red carpet decorated with ancient tribal symbols is taking shape on a village loom.

Turkmen tradition dictates that it is the women who weave but the men who make the loom frames. It is a custom so old that no one knows, or questions, its origins.

Increasingly Mechanized

But modern times can challenge even time-honored ways, and today much about Turkmen weaving is changing.

One of the most dramatic changes is the growth -- particularly since the 1980s -- of machine-manufacturing in Turkmenistan.

The new mechanization is rapidly replacing the traditional picture of a few close family members beside their loom with the image of workers gathered on a factory floor. The state enterprises that run the factories are increasingly interested only in mass-producing commercial carpets. They sell their products abroad cheaply and in bulk quantities -- their formula for steady profits.

Abdul Rakhim, a Turkmen businessman and carpet expert based in Istanbul, says the trend is damaging the international image of Turkmen carpets and driving down their value.

"In the past, fine carpets used to be hand-woven -- all of them -- the rugs were handmade," he says. "But nowadays, people make rugs by machine -- and they even can make these rugs from plastic fiber, which at first glance is hard to distinguish from wool. And people make a carpet in the shortest time to make it ready for sale. In this way, carpets are increasingly losing value."

The rise of the factories has heavily undercut family weavers in Turkmenistan -- threatening what was once a common source of supplementary income for many households. It could hardly come at a worse time -- with well over half the workforce unemployed, by some estimates.

But industrialization is not the only pressure upon Turkmenistan's weavers these days.

Out Of The Loop

Carpet experts also blame the Turkmen government's policy of isolation from much of the rest of the world. They say the policy severely limits the ability of artisans to reach foreign markets or respond to new trends.


Haji Abdul Rakhman, an ethnic Turkmen who spent decades as a refugee in Pakistan after fleeing violence in his Afghan homeland, says that when Turkmenistan won independence in 1991, he seized what he hoped would be an opportunity to start a flourishing carpet-export business in his ancestral home.
"The biggest problem we faced was obtaining a visa. We used to get a visa for a six-month period, and after each six months we had to extend it again," he says. "In the final days, they simply refused to extend our visas. When we said that we have businesses here, they said it's in accordance [with Turkmen President Saparmurat] Niyazov's decree that foreigners should leave the country, and so on.''
Even private entrepreneurs who are Turkmen citizens have difficulty creating an export business. That is because the export of each carpet requires special permission from a government office: the Carpet Museum.
Such bureaucratic obstacles are in strong contrast to the situation of ethnic Turkmen weavers in other countries, such as Afghanistan or Pakistan. Such heavy regulation is part of the reason those countries have become the most available source of Turkmen carpets today, broadly eclipsing the carpets' original homeland.
New Trends
In Afghanistan and Pakistan, the Turkmen communities have grown well attuned to the world market, including creating new designs to meet changing tastes.
Haji Abdurakhman is among those in Pakistan who designed a new kind of high-quality, Turkmen-made carpet called the "chobi." It uses natural dyes from different types of wood -- a return to nature that is gaining notice, and increasing popularity, among Western clients.
The Pakistani-Turkmen artisans hope the "chobi" will enjoy the same success as an earlier Afghan-Turkmen innovation -- the high-quality "Khal Mohammadi" style, also based on natural dyes.
In an interview with RFE/RL from Peshawar in northwest Pakistan, Abdurakhman expresses surprise that the creative center of Turkmen carpet weaving should have moved so far from Turkmenistan itself. He says he blames the isolationist policies of the Turkmen president for the shift.
Even President Niyazov appears concerned about the decline of carpet making in Turkmenistan compared with Afghanistan and Pakistan.
At a cabinet meeting on August 4, the idiosyncratic Niyazov called on a domestic carpet organization, Turkmen Carpet, to send weavers to Afghanistan to learn how to improve its products.
"Turkmen Carpet, raise the credibility of Turkmen carpets, and also convert to using natural dyes, because carpet dyes in the USSR were chemically influenced. If [a chemically colored carpet] is placed for two hours in the sunshine, the color fades and it gets yellow," Niyazov said. "In addition, if the chemical color of a carpet is known, nobody wants to buy it, and the price of Turkmen carpets drops on the international market. Send [your weavers] to learn in Afghanistan. If you make a dye from natural products it does not fade; learn this tactic and teach it to your people."
Death Grip?

But Niyazov showed no sign of easing restrictions on exports or facilitating contacts with potential foreign partners.

Such contacts could be forged through technology like the Internet, but its use is highly restricted in Turkmenistan. The government has banned households from connecting to the Internet. Instead, the public must use Internet cafes, which media-rights group Reporters Without Borders notes are much easier to control.

At least one enterprise in Turkmenistan has managed to create an Internet presence. The website of "Turkmen Carpets Online" offers both existing and made-to-order carpets for sale in a variety of traditional Turkmen styles.

But the prospects of this Ashgabat-based business are limited. Like other vendors in Turkmenistan, it cannot accept credit cards due to tight government restrictions on international financial transactions.
Central Asian Cinema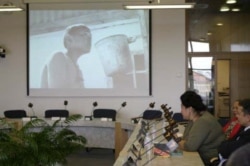 Gulnara Abikaeyeva's June 29 presentation in Prague (RFE/RL)
EAST OF THE WEST:
On June 29, RFE/RL's Prague broadcasting center hosted a presentation by
GULNARA ABIKEYEVA
, director of the Central Asian Cinematography Center in Almaty, Kazakhstan. Abikeyeva is a leading expert on Kazakh and Central Asian cinema, a chairwoman of the jury of this year's East Of The West section of the Karlovy Vary film festival. Abikaeyeva gave an overview of major trends in Central Asian cinema since the 1960s. Abikeyeva has just completed a major DVD collection of the most popular films of the five Central Asian countries and is now beginning work on a similar collection of Central Asian documentaries.
LISTEN
Listen to the complete presentation (45 minutes):

Real Audio
Windows Media
Other Articles On Central Asian Culture:
Silk Road Revival Grows As More Sites Protected
Central Asian Directors Discuss Issues Behind The Camera
Ancient European Music Meets Central Asian Masters
Central Asian Masters Revive Old Ways Of Teaching Traditional Music
ARCHIVE
To view an archive of RFE/RL's reporting on culture throughout its broadcast area, click here.


THE COMPLETE STORY: Click on the icon to view a dedicated webpage bringing together all of RFE/RL's coverage of Kazakhstan, Kyrgyzstan, Tajikistan, Turkmenistan, and Uzbekistan.