Earlier, Kyrgyz security forces said they killed Akhunov in a firefight after he refused to surrender.
Akhunov was tracked down in a house in Osh during a security operation on September 2. He reportedly refused to surrender and opened fire.
The head of Kyrgystan's National Security Service's (SNB), Busurmankul Tabaldiev, said today that his agents tried to capture Akhunov alive. He said the bullet wounds Akhunov received were not life-threatening and cardiac rupture was a real reason for Akhunov's death.
One security officer was slightly wounded during the operation.
Akhunov was wanted for terror-related crimes in Kyrgyzstan, Tajikistan, and Uzbekistan. He was believed to have had links to Al-Qaeda leaders.
SNB chief Tabaldiev blamed Akhunov for a recent attack against Tajik and Kyrgyz border posts in which several border guards were killed, saying he "was one of the organizers of the attack on the Lakkan border post in Tajikistan on May 12."
Ferghana.ru news agency has reported that Akhunov was with three alleged terrorists -- including the popular imam of a mosque in Kara-Suu -- when they
were killed
in a security raid in Osh in early August but managed to escape.
The Islamic Movement of Turkestan is believed to have emerged in recent years from elements of the Islamic Movement of Uzbekistan (IMU) and other extremist groups.
(with additional reporting by AKIpress, ferghana.ru)
Hizb Ut-Tahrir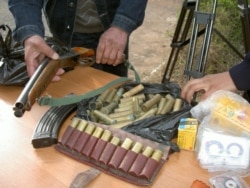 Arms and leaflets allegedly confiscated from Hizb ut-Tahrir members in Kyrgyzstan in May (RFE/RL)

ATTRACTIVE TO THE YOUNG: It is virtually impossible to estimate the size or composition of Hizb ut-Tahrir's membership in Central Asia, because the controversial movement is banned in most places. But some observers say anecdotal evidence suggests the group's core of younger members is growing....(more)
RELATED ARTICLES
Russia Approves List Of 17 'Terrorist' Groups
Extremist Threats, And Doubts, In Kyrgyzstan, Tajikistan
Hizb Ut-Tahrir's Calls For Islamic State Find Support
Hizb Ut-Tahrir Challenges Britian's Proposed Ban
Lone Islamic Party Pursues Dual Path In Tajikistan

A thematic webpage devoted to issues of religious tolerance in RFE/RL's broadcast region and around the globe.