SNB spokesman Nurbek Tokbaev told RFE/RL's Kyrgyz Service that the man, who he identified only by his nickname of "Boss," gave himself up on August 15.
Tokbaev said "Boss," who was responsible for an underground IMU cell in the southern city of Ozgon (Uzgen), had been on the run since late March.
"On March 30, in line with a warrant issued by the Prosecutor-General's Office, we searched his home," Tokbaev said. "During the search, we found a sawn-off rifle, many rounds of live ammunition, and several audio- and videocassettes. Those cassettes showed how [Islamic] militants were being trained in Pakistan and Afghanistan. There was also a cassette with a message from [IMU leader] Tohir Yuldashev."
The independent Central Asian website ferghana.ru reported that the suspect's real name is Jamaldin Abdrashitov and that he was allegedly involved in a July armed incident in the southern Kyrgyz city of Jalal-Abad.
The website said that following the incident, Kyrgyz security officers detained and severely beat Abdrashitov's wife.
(with material from ferghana.ru and Kabar)
Hizb Ut-Tahrir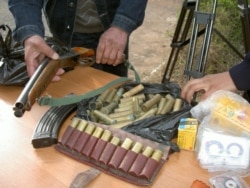 Arms and leaflets allegedly confiscated from Hizb ut-Tahrir members in Kyrgyzstan in May (RFE/RL)

ATTRACTIVE TO THE YOUNG: It is virtually impossible to estimate the size or composition of Hizb ut-Tahrir's membership in Central Asia, because the controversial movement is banned in most places. But some observers say anecdotal evidence suggests the group's core of younger members is growing....(more)
RELATED ARTICLES
Russia Approves List Of 17 'Terrorist' Groups
Extremist Threats, And Doubts, In Kyrgyzstan, Tajikistan
Hizb Ut-Tahrir's Calls For Islamic State Find Support
Hizb Ut-Tahrir Challenges Britian's Proposed Ban
Lone Islamic Party Pursues Dual Path In Tajikistan

A thematic webpage devoted to issues of religious tolerance in RFE/RL's broadcast region and around the globe.