The agreement was signed following talks between Russian President Vladimir Putin and South African President Thabo Mbeki in Cape Town today.
Putin's two-day visit to South Africa is the first by a Russian head of state.
The trip is seen as part of a drive by Russia to reassert its influence in Africa and also forge close ties between the two countries in the mining and metals sectors.
At a joint news conference with Mbeki, Putin said one Russian metals production company -- which he did not name -- was planning to invest more than $1 billion in extracting manganese ore in South Africa. He also mentioned planned investments into the aluminum industry and the energy sector.
The two countries also signed a number of cooperation agreements, including an agreement on space technology.
Putin's visit is also expected to include a trip to the Robben Island prison, where former President Nelson Mandela spent 18 years as a prisoner during South Africa's apartheid years.
(ITAR-TASS, Interfax, AFP, AP)
Russian Arms Exports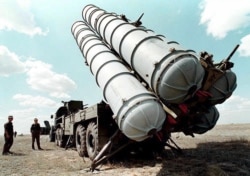 Russia's advanced S-300 air-defense system (epa file photo)

BOOM TIMES: In 2005, Russia sold more than $6 billion in weapons to more than 60 countries around the world. The state arms exporter says it has $17 billion in orders in hand....(more)
RELATED ARTICLES
Putin Pushes Greater Arms Exports
Energy, Weapons Bring Moscow Closer To Algiers
Will Russia's Oil Windfall Go To Military?
Putin Stresses Need For Strong Military
ARCHIVE
RFE/RL
coverage of Russia
. RFE/RL web special on
U.S.-Russian relations
.
SUBSCRIBE
For news and analysis on Russia by e-mail,
subscribe to "RFE/RL Russia Report."