Addressing the session, Prime Minister Viktor Yanukovych reiterated that Ukraine's European integration remains the "strategic goal" of his government.
However, he said that "the new government sees its task as making [Ukraine] a strong, self-sufficient, and therefore interesting partner for Brussels in the negotiation process with the European Union, instead of the beggar that Ukraine has been until now."
Yanukovych said he would wanted seek make Ukraine a place where "stability and predictability reign."
The legislature approved Yanukovych as prime minister on August 4. The move came after Yanukovych's pro-Moscow Party of the Regions and President Viktor Yushchenko's pro-Western Our Ukraine party agreed on a declaration of principles laying the foundations for a broad coalition.
Yanukovych also called on Ukraine's main opposition party, the Yuliya Tymoshenko Bloc, to cooperate with the government to develop the country.
Tymoshenko, Yushchenko's former 2004 Orange Revolution ally, dismissed Yanukovych's call, saying her party would not be a "comrade" to his government and that it will be a "real opposition."
(UNIAN, Interfax-Ukraine)
Viktor Yanukovych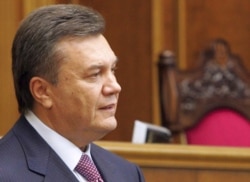 Prime Minister Viktor Yanukovych addresses Ukraine's Verkhovna Rada on August 6, 2006 (TASS)


UP FROM THE ASHES. On August 4, 2006, the Ukrainian legislature ended four months of political standoff by confirming Viktor Yanukovych as prime minister. Yanukovych's pro-Russian Party of Regions won the largest block of seats in the country's inconclusive March legislative elections. His confirmation capped a remarkable political comeback for Yanukovych after his defeat by Viktor Yushchenko in Ukraine's Orange Revolution....(more)
RELATED ARTICLES
Former President Comments On Yushchenko's Compromise
President Compromises For National Unity
Kremlin Insider Hails Developments
Former U.S. Envoy Says West Can Work With Yanukovych
ARCHIVE
RFE/RL's
coverage of Ukraine
. The website of
RFE/RL's Ukrainian Service
.


A photo gallery of political developments in Ukraine since the March 26 elections (Flash required)