The ceremonial handover leaves Iraqi Prime Minister Nuri al-Maliki in direct control of the Iraqi military. U.S. military spokesman Major General William Caldwell has described the handover as having "gigantic" significance as Iraq moves toward becoming an independent state.
The U.S.-led coalition has been training and equipping the Iraqi military with the goal of making it capable of ensuring security across Iraq.
Meanwhile, Iraqi authorities on September 6 hanged 27 convicted "terrorists." Interior ministry spokesman Abdul Karim Khalaf told the French AFP news agency that the 27 were hanged in the capital, Baghdad, and that most of them were Iraqis.
He said they were convicted of attacks on Iraqi civilians and sentenced to death, in an execution order signed by an Iraqi vice president, as Iraqi President Jalal Talibani opposes the death penalty.
(compiled from agency reports)
Sectarian Iraq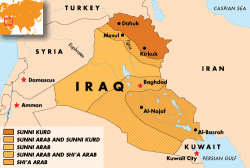 Click to enlarge the image.
SUNNI, SHI'A: Iraq is riven along sectarian lines, faults that frequently produce violent clashes and are a constant source of tension. Sectarian concerns drive much of Iraqi politics and are the main threat to the country's fragile security environment.


THE COMPLETE PICTURE: Click on the image to view RFE/RL's complete coverage of events in Iraq and that country's ongoing transition.