As the world watched the events in New York and Washington in horror and disbelief, Russian President Vladimir Putin was quick to react.
Putin Feels America's Pain
He picked up the phone and called George W. Bush, becoming the first world leader to offer condolences and support to the U.S. president. Putin may have felt that he, more than other heads of state, was uniquely qualified to address the issue of terrorist attacks.
"What happened today underlines once again the importance of Russia's proposals to unite the efforts of the international community in the fight against terrorism, against this plague of the 21st century," Putin told Russian television viewers the same day. "Russia knows firsthand what terrorism is, so we understand more than anyone else the feelings of the American people."

An archive of RFE/RL's extensive coverage of terrorism in Russia.
An annotated timeline
of major terrorist incidents in Russia since 1995.
With the smoke of the 9/11 attacks still hanging in the air, Putin had publicly linked the attacks to his own country's battle with Chechen separatists.
Terror And The War In Chechnya
By that time, Russia had already experienced several terrorist attacks attributed to Chechen militants.
In 1995, radical Chechen militant Shamil Basayev staged the first in what would become a series of terror operations, seizing 1,500 hostages in the southern Russian town of Budyonnovsk. Nearly 170 hostages died during rescue efforts, while Basayev and most of his men escaped.
In 1999, bombs destroyed apartment blocks in Moscow, Buinaksk, and Volgodonsk, killing more than 200 people. Moscow blamed the explosions on Chechen fighters, and launched its second war in the breakaway republic soon afterward.
The threat of terrorism had been on Putin's mind since the start of his presidency in 2000. He had repeatedly pushed the idea that Russia, the United States, and Europe had to join forces to combat it.
So when Bush declared his "war on terror" in the wake of 9/11, he found a staunch ally in the Russian president. Putin offered his cooperation in the U.S. operations in Afghanistan, facilitating the stationing of U.S. troops in Central Asia and opening Russian airspace to humanitarian flights.
He also redoubled his efforts at home. Putin made clear that the war on terror extended to Russian soil -- specifically, to the North Caucasus, where the Kremlin's 2-year-old military campaign was degenerating into the guerrilla warfare that continues to this day.
"What happened today underlines once again the importance of Russia's proposals to unite the efforts of the international community in the fight against terrorism, against this plague of the 21st century," Putin said on national television on September 11, 2001.
What the West had originally condemned as a vicious antiseparatist campaign, Putin labored to refashion as a legitimate part of the global struggle against terrorism. His efforts were largely successful and Western criticism of the war slowly subsided. The Kremlin, claiming success in Chechnya, established a pliable regime in Grozny.
'A Gift For Mr. Putin'
Ruslan Martagov is a former spokesman for an earlier, Moscow-installed Chechen government -- that of Doku Zavgayev in the mid-1990s -- who now heads the Antiterror Foundation in Moscow:
"September 11 was an unexpected gift for Mr. Putin," Martagov says. "From then on, he started calling the fight against the Chechen separatist movement in the North Caucasus a 'fight against international terrorism.' If before he was perceived in the West as [someone using aggressive jargon] like 'strangle, kill, wipe out,' after the events of September 11 he managed to enter the league of those combating international terrorism."
Since 9/11, Russian officials have repeatedly made implicit connections between Chechen separatists and Al-Qaeda, blamed for the 9/11 attacks. Afghan and Arab fighters have routinely been reported as battling alongside separatist forces in Chechnya.
Chechen militants, likewise, have allegedly been found among terror cells in Afghanistan, Pakistan, Central Asia, and, more recently, Iraq.
One year after the 9/11 attacks, Chechen fighters were reported to be seeking refuge in Georgia's remote Pankisi Gorge.
Preemptive Strikes
Putin, whose ties with Georgia had gone cold, used the opportunity to threaten air strikes on its territory if Tbilisi refused to rout the "terrorists" themselves.
"Today nobody can deny -- we know this for sure, and it is confirmed by international sources of information -- that those who took part in preparations for the attacks on the United States one year ago and those who were directly involved in the Russian apartment-block explosions are entrenched on the territory of Georgia," Putin said.
In addition, he followed the U.S. lead and declared that Russia had a right to launch preemptive strikes against foreign countries if it felt that a terrorist threat was emerging there.
Ultimately, however, Putin's efforts in the North Caucasus appear to have yielded mixed results.
Unrest has continued to spill beyond the borders of Chechnya, to neighboring Caucasus republics and beyond, with separatist militants resorting to increasingly extremist methods.
In October 2002, Chechen rebels stormed a Moscow theater, taking an estimated 900 people hostage -- 129 of them were killed in the rescue operation.
And in September 2004, more than 330 people, half of them children, died after Chechen rebel sympathizers seized a school in the southern Russian city of Beslan.
The Beslan tragedy followed the near-simultaneous bombing of two Russian commercial airliners on August 24 and a suicide bomb attack near a crowded Moscow subway station on August 31. A total of 100 people died in those three attacks, all of which were said to be carried out by female suicide bombers from Chechnya.
Since Beslan, however, major terrorist incidents have been avoided in Russia. In addition, Chechen rebel leaders Aslan Maskhadov and Abdul-Khalim Sadulayev were killed. And in July, Basayev himself was killed in an accidental explosion.
Putin's Chechen campaign continues to enjoy widespread popular support in Russia. Brought to the presidency on promises to "wipe out" terrorists, Putin, for many Russians, is doing what's needed to guarantee the country's security.
Two Points Of View
Sergei Markov, the director of the Moscow-based Institute for Political Studies, has close ties to the Kremlin. He describes Russia's campaign in Chechnya as an unparalleled success.
"It is justified by the fact that this territory was seized by a coalition of separatists and radical Islamists," Markov says. "Thousands of people suffered from terror. This war was a colossal success: the army of radical Islamists and separatists was crushed, peace and calm arrived. Americans and other countries should very carefully study the Chechen campaign carried out by the Kremlin and take lessons from it."
Not everyone, however, is convinced.
Independent experts like Martagov assert that the ongoing war in Chechnya has fueled violence and extremism throughout Russia.
"Over the past five years, the radicalization of young people has been spreading across the North Caucasus, mainly because there is one thing that our authorities are incapable of understanding -- terrorism is above all an ideology, and you can't defeat an ideology with rifles," Martagov says. "An ideology must be challenged with another ideology. Everything the federal authorities are currently doing results in young people being increasingly disappointed with this government and seeing their only salvation in the most extreme form of religion."
Consolidating Power
Putin also consolidated the Kremlin's power generally under the banner of combating terrorism.
In the aftermath of the Beslan tragedy, Putin pushed through parliament a package of purported antiterrorism measures that considerably extended Kremlin control over Russian's sprawling regions. These measures included the abolition of popular elections of regional leaders, replacing them with Kremlin appointees.
Boris Kagarlitsky, the director of Moscow's Institute of Globalization Studies, says Putin's administration has also used the September 11 attacks to justify its clampdown on independent media.
"The war against terrorism is a big gift for any government, because it always represents a way of rapidly limiting civil rights and liberties in order to save a way of life that is [allegedly] threatened by an absolute evil," Kagarlitsky says. "For the Russian political establishment, a wonderful opportunity arose to control the press. It is no coincidence that the systematic strangling of the free press started precisely after September 2001."
While Putin has made the war on terror a central part of his domestic policy over the past five years, his allegiance to the methods and policies undertaken by the United States in that war has been limited.
Like many European leaders, he openly opposed the U.S.-led invasion of Iraq in 2003 and has called for the withdrawal of foreign troops from the country, straining relations with Washington. And by maintaining working ties with Iran -- a country once described by Washington as a point on the "axis of evil" -- Putin has clearly shown that his agenda for the global war on terror does not correspond neatly to Washington's.
Russia And The West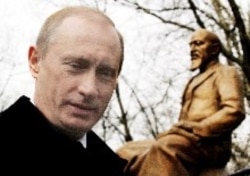 (epa)
COOPERATION, CONFLICT, CONFRONTATION: Relations between Russia and the West are notoriously volatile. "To see the kind of relationship that presidents Bush and Putin have developed and to see Russia firmly anchored in the West, that's really a dream of 300 years, not just of the post-Cold War era," then-national security adviser Condoleezza Rice said in May 2002.
But observers have increasingly called into question the extent of the shared values between Russia and the West, particularly on issues relating to the transformations going on in other former Soviet countries.
RELATED ARTICLES
Silent Diplomacy Versus Public Criticism
Analysts Say New Arms Race Unlikely
Moscow 'Unhappy' With Outcome Of CFE Conference
Moscow And Washington Spar Over WTO Membership
Russia Gears Up To Improve Its Image Abroad
Experts Urge U.S. To Rethink Relations With Russia
U.S. Official Says Russian NGO Law Part Of Antidemocratic Trend
ARCHIVE
To view an archive of RFE/RL's coverage of Russia, click here; to view an archive of RFE/RL's coverage of U.S.-Russian relations, click here.

SUBSCRIBE
For news and analysis on Russia by e-mail, subscribe to "RFE/RL Russia Report."