Al-Maliki is accompanied by a high-level delegation that includes several cabinet members and lawmakers. The Iraqi prime minister's visit was originally due to begin on September 11, but was postponed for "technical reasons."
Both sides held their first round of talks on undisclosed topics. Following the talks, Ahmadinejad described ties with Iraq as "excellent" and added that they will remain that way.
Tehran Wants A Strong Iraq
He described strengthening the Iraqi government as a duty for all and said that a "united and independent Iraq" is in the interest of the whole region.
"Iranian officials do not see the presence of armed Shi'ites that have ties with Iran as a security problem, but U.S. officials, the Iraqi government, and many Iraqi people consider it as a disturbance to security, therefore a common definition of security should be found."
"Strengthening the Iraqi government is strengthening security, peace and brotherhood in Iraq," Ahmadinejad said.
Al-Maliki said that he had good discussions with Ahmadinejad and added that he saw no barrier in cooperation between the two countries, "even on security issues."
Al-Maliki is also due to hold talks with other senior Iranian officials, including Iranian Supreme Leader Ayatollah Ali Khamenei.
Like many other Iraqi Shi'ite officials, al-Maliki spent some time in Iran while in exile during the 1980s when Saddam Hussein was in power.
London-based journalist and Middle East expert Alireza Nourizadeh tells RFE/RL that al-Maliki's trip to Tehran could have a significant impact on ties between the two countries.
Al-Maliki Holds Legitimacy
"Before al-Maliki, all Iraqi prime ministers had a temporary title, in fact they had been chosen for a limited time until the constitution was approved and elections were held; therefore [the previous Iraqi] governments could not make any serious decisions but Mr. al-Maliki -- as the head of the Iraqi government -- can talk with Iran about fundamental issues, issues that are of concern to the Iraqi government," he said. "Iran is also concerned about the U.S. presence in Iraq."
Iran has announced ways to bolster Tehran-Baghdad relations as well as regional and international developments and the situation in Iraq tops the agenda of talks between al-Maliki and Iranian officials.
Iraqi sources have said that the issue of security and noninterference will also be discussed.
Al-Maliki spokesman Ali Ali-Dabbagh told Reuters that the Iraqi prime minister will tell Tehran that Iraq needs good relations with neighboring countries without interference in the country's internal affairs.
The message echoes comments by U.S. officials who repeatedly accuse Iran of meddling in Iraqi affairs.
On August 11, U.S. Ambassador to Iraq Zalmay Khalilzad told "The New York Times" that Iran was encouraging militias to step up attacks on U.S. forces in retaliation for the Israeli assault on Hizballah in Lebanon.
Iranian Interference?
Iranian officials reject the allegations and say the United States presence in Iraq is fueling terrorism and instability.
Some Iraqi Shi'ite officials with close ties to Tehran have also rejected reports that Iran is stirring up trouble in Iraq by training, equipping, and otherwise supporting Shi'ite militias.
The head of the Supreme Council for the Islamic Revolution in Iran (SCIRI), Abdul Aziz al-Hakim, told "Time" magazine last month that despite repeated requests by him and other Iraqi politicians, U.S. officials have failed to show any reliable evidence of Tehran's interference in Iraq.
Today in Tehran, Ahmadinejad vowed Iran will help Iraq establish "complete" security because he said "Iraq's security is Iran's security."
Nourizadeh believes Iranian and Iraqi officials have a different interpretation of security.
"Iranian officials do not see the presence of armed Shi'ites that have ties with Iran as a security problem, but U.S. officials, the Iraqi government, and many Iraqi people consider it as a disturbance to security, therefore a common definition of security should be found," he said. "A common language and a solution should be found for these issues."
Some observers believe Iran is seeking to spread its influence in Iraq but at the same time they say Iran wants a stable Iraq in its neighborhood.
Fertile Ground For Good Relations
Nourizadeh says it is in the interest of both Iran and Iraq to have stable relations. However, he adds that ties between Tehran and Baghdad are also dependent on Iran's relations with the United States.
"Iran has its longest border with Iraq; [Iran] fought [a war for] eight years against Iraq," he said. "Today there is a government in Iraq that is not Iran's enemy -- [therefore] naturally and logically the ground is prepared for cooperation between the two countries. What worries Iran is that an Iraq in its neighborhood will have friendly ties with the United States. So as long as ties between Tehran and Washington are strained, Iraq will be in between like a hostage."
During al-Maliki's two-day visit to Iran, several agreements on trade, energy, and transportation are due to be finalized.
Both sides have underlined the need to expand ties in various sectors such as trade, oil, and energy in general.
Iran is reportedly to take part in the construction of an oil pipeline between the southern Iraqi city of Al-Basrah and the Iranian port of Abadan.
Iran is also due to help Iraq in various construction projects for its petrochemical industry.
Iraq And Iran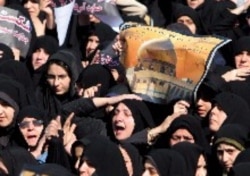 Iranian Shi'a protesting the Golden Mosque Bombing in Iraq on February 24


WHAT IS GOING ON? On March 8, RFE/RL's Washington office hosted a roundtable discussion on relations between Iraq and Iran. Although most analysts agree that Iran has been actively involved in Iraq since the U.S.-led military operation to oust former Iraqi President Saddam Hussein, they continue to debate the nature, extent, and intent of that involvement.
The RFE/RL briefing featured WAYNE WHITE, former deputy director of the U.S. State Department Bureau of Intelligence and Research's Office of Analysis for the Near East and South Asia, and A. WILLIAM SAMII, RFE/RL's regional analyst for Iran and editor of the "RFE/RL Iran Report."
LISTEN
Listen to the complete RFE/RL briefing (about 75 minutes):

Real Audio
Windows Media
RELATED ARTICLES
Iran/Iraq: Bilateral Ties Improving Despite U.S. Worries
Renewed Speculation About Tehran And Instability In Iraq
Iran/Iraq: Neighbors Mending Ties, But Outstanding Issues Remain
ARCHIVE
RFE/RL's
coverage of Iran
. RFE/RL's
coverage of Iraq
.