RFE/RL: What impression has Usmanov made on you?
Azer Mursaliyev: Perfectly normal. Of course, he is a relatively well-known man. So, if it had been some completely unknown person, something completely unexpected, then we could speak about impressions. But this was completely expected, completely normal.
RFE/RL: From what he told you, can you draw any conclusions about the future development or reform of "Kommersant"?
Mursaliyev: Reforms at the paper have already been under way for just over a year. As far as I understand, this path of reform and the things which Mr. Usmanov discussed didn't raise any objections. Moreover, he announced his position -- that he doesn't intend to interfere with editorial policy. So we can conclude that we'll conduct reforms within the framework of our existing plan. At the end of September, we'll begin publishing in color and, most likely, there will be some changes to the design.
RFE/RL: But the format of the paper won't be changed?
Mursaliyev: No. Although there were discussions and arguments about the fact that there's a growing trend in the market toward reduced-format newspapers. But -- luckily, in my opinion -- the conservative point of view won the day at "Kommersant." Our format will remain the same.
RFE/RL:
Some media have been quoting a statement by Usmanov that the purchase of "Kommersant" is his company's first step toward creating a major media holding company. Did he discuss this in more detail?
Mursaliyev: No, there was no detailed discussion. But he doesn't intend to stop with this purchase. This is a new kind of business for him. He wants to develop it, but at the same time he promised that any media acquisitions will somehow complement or be in the same niche with "Kommersant," and that they will be subsidiary projects of "Kommersant" and not the other way around.
RFE/RL: There was another statement that drew attention. Usmanov said that he doesn't intend to infringe upon freedom of speech, but that he does intend to support the Kremlin's policies and that he supports the Kremlin's policies. Isn't this a contradiction?
Mursaliyev: No. The contradiction arose because the quotation isn't accurate. As far as I remember, the exact quotation was something like, as a citizen he supports the policies of the Kremlin, but that he doesn't plan to interfere in editorial matters. The criticism to be found in the paper's editorial content is, in his opinion, fully justified. The newspaper has the right to be critical.
RFE/RL: How did the editorial team react to the change of ownership?
Mursaliyev: This isn't the first time that the Kommersant publishing house has changed hands. As the old saying goes -- fear a little, worry a little, expect a little. The Kommersant publishing house is going through its third or fourth ownership change. So I think a certain immunity has developed. The team does not see anything extraordinary in this.
RFE/RL: After your meeting with Usmanov, do you have more confidence that "Kommersant" will remain a leader among the quality Russian press? Or is your level of confidence the same or less?
Mursaliyev: Of course, we want "Kommersant" to remain a leader in the future. This depends not so much on the owners as on the editorial team.
Russian Regional Television
Russian Regional Television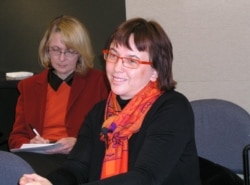 Floriana Fossato speaking at RFE/RL on March 22 (RFE/RL)
IS THE KREMLIN MOVING IN? On March 22, FLORIANA FOSSATO, a political analyst with University College London who specializes in Russian-media issues, gave a briefing at RFE/RL's Washington headquarters. Fossato noted that there are some 1,500 television companies in the Russia regions, approzimately half of them privately owned. She argued that the tone and detail of national events covered on local television often differs markedly from the way the same events are framed by the more directly controlled national television channels. She outlined Kremlin efforts, including the creation of a new state-owned national television channel for the regions and new advertising regulations, that could signal a concerted effort to make Russia's "information space" more uniform in the run-up to national elections in 2007 and 2008.
Listen to the entire briefing (about 60 minutes):
Real Audio Windows Media
See also:
Russia Gears Up To Improve Its Image Abroad
Patriotic TV Channel Nearing Launch, But Will Anyone Watch?
New International Channel Ready To Begin Broadcasting
New TV Channel To Tend To Country's Spiritual Needs


For regular news and analysis on media issues throughout RFE/RL's broadcast area by e-mail, subscribe to "RFE/RL Media Matters."