Suspected Serb War Criminal Seized In Greece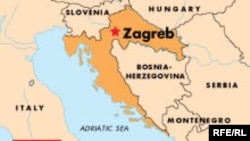 (RFE/RL) September 17, 2006 -- Croatia's Interior Ministry says an ethnic Serb sought for crimes against civilians during the country's 1991-1995 independence war has been detained in Greece.
A spokesman said Greece had informed Croatia that Ernest Radjen was detained in the northern port city of Salonika on September 15.
Radjen is wanted for his alleged role in the 1991 massacre of some 50 civilians near Zadar.
(AFP)