Top Al-Sadr Aides Reportedly Detained In Iraq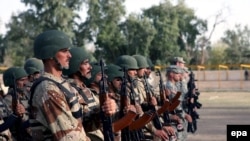 Iraqi forces are taking over security responsibilities in calmer southern areas (file photo) (epa) September 21, 2006 -- U.S. and Iraqi troops have detained two top aides to radical Shi'ite cleric Muqtada al-Sadr as part of a crackdown on suspects in sectarian killings.
A spokesman for al-Sadr in the southern Iraqi city of Al-Najaf says the cleric has called on the followers of his Al-Mahdi Army not to retaliate.
The detention has not been confirmed by U.S. forces.
Violence on September 21 has cost eight lives in the Iraqi capital, Baghdad.
In one incident, two people were killed and another eight injured when a car bomb exploded near an office of an electricity supplier in Al-Hurriyah, a western neighborhood of the capital. There were no further details immediately available.

In a second incident, again in the Al-Hurriyah neighborhood, six policemen were killed when a police station was attacked.

Elsewhere, Iraq today took control of security in the southern governorate of Dhi Qar from U.S.-led coalition forces.

The relatively peaceful province is the second of the country's 18 governorates to be handed over to Iraqi forces after the July transfer of power in Al-Muthanna Governorate.

Nearly 2,000 Italian and Romanian troops were in charge of security for Dhi Qar, of which Al-Nasiriyah is the capital.

(AFP, AP)