U.S. Denies Barring Iranian Journalists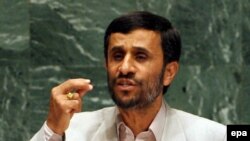 Iranian President Mahmud Ahmadinejad addressing the United Nations on September 19 (epa) September 21, 2006 -- The U.S. State Department has denied refusing 15 Iranian journalists visas to attend sessions of the United Nations.
Washington says Iranian officials withdrew the visa applications.
Tehran has said it will increase restrictions on U.S. media in retaliation for it maintains was Washington's decision to deny visas to the Iranian journalists.
(AP)