Born in St. Petersburg in 1906 to a family of Polish origin, Shostakovich remains one of the 20th century's most popular composers -- and also one of the most prolific.
He composed 15 symphonies, two operas, six concertos, 15 string quartets, three ballets, as well as film music.
Oksana Dvornichenko met Shostakovich in 1974, one year before his death, while shooting a documentary film about him.
One of Russia's leading experts on Shostakovich, Dvornichenko says that the composer, despite suffering from lung cancer, continued to write music until his death in 1975.
"He was gravely ill, he used one hand to hold the other when he shook someone's hand, he had difficulty writing down music,'' Dvornichenko says. "But he exemplified the body's demise and the soul's immortality. It was frenzied labor, frenzied creative work. Even during his last year, he composed a huge number of new works, he had great plans to write quartets and an opera based on [Anton] Chekhov's 'Black Monk.' Unfortunately, he ran out of time."
Soviet Complications
Shostakovich's string quartets and symphonies have earned him a reputation as "the Beethoven of the 20th century." And his work is inextricably linked to his complex relationship with the Soviet authorities.
"He exemplified the body's demise and the soul's immortality"
The composer was heavily spied-on by the Soviet Union, and his music was officially denounced on two occasions.
His first conflict with the regime was caused by his opera "Lady MacBeth of Mzensk." Two days after Stalin saw it in January 1936, the opera was slammed in an editorial in the "Pravda" newspaper accusing Shostakovich of "petit-bourgeois formalism" and "chaos." The opera was subsequently banned. Shostakovich was officially condemned of "formalism" again in 1948.
But throughout his career, Shostakovich received a number of state awards and accolades, dedicated works to Stalin and Lenin, and served as a deputy in the Supreme Soviet. In 1973, he signed a letter attacking the dissident physicist Andrei Sakharov -- an act for which he later said he would never forgive himself.
Dvornichenko, however, warns against judging his ambiguous relations with the Soviet government too harshly. "I have also tried to find an answer to this question. Even after consulting numerous documents in different archives, I still find it difficult to imagine what pressure he was under," Dvornichenko says. "Every single one of his steps were monitored right until his last days. This is a very difficult question. It's easy to sit in comfortable libraries and say he was a coward and signed certain letters. Several times he was on the verge of suicide -- this is a fact."
Symphony Under Siege
One of Shostakovich's most symbolic and best-loved works is his Symphony No. 7, also known as the "Leningrad Symphony." It was composed in 1941 during the Nazi siege of Leningrad.
In August 1942, a group of starving musicians performed this symphony in besieged Leningrad. Loudspeakers outside the concert hall relayed the music to those without tickets and, as a message of defiance, towards the German Nazi forces encircling the city.
The "Leningrad Symphony" won acclaim in countries fighting the Nazis and became an emblem of resistance to the Nazi invasion.
In the United States, an image of Shostakovich wearing a fireman's helmet appeared on the cover of "Time" magazine.
Dvornichenko says this symphony has a unique history: "This is a unique case when a musical work belongs to the whole world. It was linked to many events, in music but also in politics, in culture, in the movement of nations. It united people, because many orchestras performed this symphony. It is an incredible story. This symphony entered history not only as a musical work but also as an act of unification of people."
Listen To Shostakovich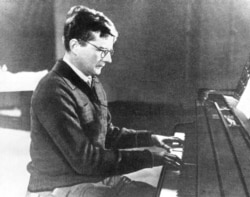 Dmitry Shostakovich, 1941 (TASS)
String Quartet No. 15, Elegy (Real Player, Windows Media)
"Leningrad" Symphony No. 7 (Real Player, Windows Media)