Putin met today with French President Jacques Chirac and German Chancellor Angela Merkel for an informal summit in the town of Compiegne, north of Paris.
Energy security had been expected to be high on the agenda of the talks, along with the standoff between the international community and Tehran over Iran's nuclear program.
Putin also sought to ease European concerns about Russia's growing economic ambitions, including the purchase of a 5 percent stake in EADS, the French-German company that runs Airbus.
He said the purchase was not "a sign of aggression" and announced the creation of a working group to study Russia's possible role in the company.
Chirac and Merkel did not specifically address the Russian stake in EADS.
At a joint press conference after the talks, Putin said the talks had been a "regular exchange of opinions," which he said, "allows us not only to understand one another better but also to react without a delay to current international threats and challenges."
He also said the three leaders had discussed cooperation in aviation, space and infrastructure creation "in terms of concrete projects." He announced France and Russia had signed deals in the transport and aviation sectors worth $10 billion.
Bilateral Cooperation 'Important'
Putin kicked off his visit on September 22 by meeting Chirac in Paris. The two leaders discussed a wide range of issues, including transportation and trade.
Ahead of the talks, Chirac praised the relations between the two countries as "excellent."
"We will also have the opportunity to talk about international problems and different crises that put world peace into question," he said. "Our bilateral relationships, which are excellent in every regard, notably in the energy, infrastructure, and aviation sectors."
Putin underlined the importance, including globally, of bilateral cooperation.
"Today, the cooperation between France and Russia is of supreme importance," he said. "On the one hand, for bilateral relations but also for the situation in the world. The big issues are infrastructure and telecommunications and we will also speak together about the politics of energy."
There has been widespread concern in the West over recent Russian moves to put pressure on international oil groups such as Royal Dutch Shell and ExxonMobil to gain a greater share of huge oil and gas projects in Russia's remote Sakhalin region. These moves were seen as potentially also putting into question the future of a production-sharing agreement with French oil company Total.
However, Putin downplayed those concerns. "I can assure you that the rumors about taking away the Total license are greatly exaggerated," he said.
(compiled from agency reports)
Russia And Global Energy Security
Russia And Global Energy Security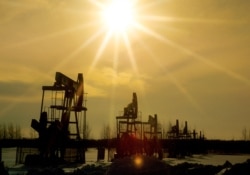 An oil field in Russia's Republic of Bashkortostan (TASS file photo)


ENERGY SECURITY is increasingly moving to the top of the EU's agenda in its dealings the outside world. A recent report identifies the European Union's main energy objectives as not just securing gas and oil deliveries from Russia, but also ensuring that it has reliable alternative sources, including in Central Asia. Nonetheless, EU officials say relations with Russia take center-stage in their thinking....(more)
RELATED ARTICLES
EU Maintains Codependent Energy Relationship With Russia
Turkmenistan: The Achilles' Heel Of European Energy Security
U.S. Official Urges Reforms In Energy-Producing Countries
ARCHIVE
A
complete archive
of RFE/RL's coverage of energy issues in the Caspian Sea region and Russia.