Manuchehr Mottaki also said he believes a negotiated solution to Tehran's standoff with the West over its nuclear program is possible.
Mottaki said he expects European Union foreign-policy chief Javier Solana and Iran's top nuclear negotiator, Ali Larijani, to hold their third meeting "very soon."
Mottaki said that "there was good connection between the two sides" after Iran responded in August to a package of incentives from the permanent members of the UN Security Council plus Germany for Iran if it suspends uranium enrichment.
He said after the first two rounds of talks, Larijani and Solana "mentioned jointly that it was positive, constructive and another step forward."
Iran ignored an August 31 Security Council deadline to suspend uranium enrichment. The West suspects Iran is seeking to develop nuclear weapons; Tehran denies the accusations.
Russia Urged To Complete Construction
In other news, the head of Iran's Atomic Energy Organization met in Moscow today with Russian officials to discuss progress on Iran's Russian-built Bushehr nuclear power plant.
Before the talks, Gholam-Reza Aqazadeh-Khoi thanked his Russian counterpart, Sergei Kiriyenko, for inviting him and said they would discuss the completion of the Bushehr plant.
During the talks, Aqazadeh pressed Russia to speed up work on Bushehr, warning that Iran is ready to complete the work itself if necessary.
He said Iran can complete the power station within six months. He also denied reports of an agreement with Russia for a November 2007 completion date.
The United States fears Iran could use the plant to produce material for nuclear weapons.
(AFP, AP)
Talking Technical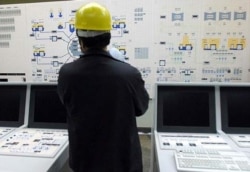 A control panel at the Bushehr nuclear power plant (Fars)

CASCADES AND CENTRIFUGES: Experts and pundits alike continue to debate the goals and status of Iran's nuclear program. It remains unclear whether the program is, as Tehran insists, a purely peaceful enegy project or, as the United States claims, part of an effort to acquire nuclear weapons.
On June 7, 2006, RFE/RL correspondent Charles Recknagel spoke with nuclear expert Shannon Kile of the Stockholm International Peace Research Institute in Sweden to help sort through some of the technical issues involved. "[Natanz] will be quite a large plant," Kile said. "There will be about 50,000 centrifuges and how much enriched uranium that can produce [is] hard to say because the efficiency of the centrifuges is not really known yet. But it would clearly be enough to be able to produce enough [highly-enriched uranium] for a nuclear weapon in fairly short order, if that's the route that they chose to go...." (more)
RELATED ARTICLES
Tehran Says It Is Working On Advanced Nuclear Fusion
Would Light-Water Reactor Suit Tehran's Needs?
Satellite Images Raise Questions About Iran's Nuclear Program
Centrifuges And Political Spin?
How Close Is Iran To Getting Nuclear Bomb?
Iran: The Worst-Case Scenarios

THE COMPLETE STORY: RFE/RL's complete coverage of controversy surrounding Iran's nuclear program.