The Amnesty International human rights group says those detained in recent days include Iranian ethnic Azeris advocating a school boycott and at least 10 people who sought to demonstrate against the imminent execution of four women.
Amnesty is calling on the Iranian authorities to cease harassment of those who peacefully exercise their rights.
The group highlighted the case of prominent human rights defender Ali-Akbar Musavi-Khoeni, who has been detained without charge or trial for more than three months.
Khoeni, a former reformist legislator, disclosed during a short prison leave that he has been tortured in detention in a bid to make him "repent."
Human Rights Watch has also expressed grave concern over Khoeni's health and safety and called for his release.
West Accused Of Recruiting Spies
Meanwhile, a statement by the International Federation of Journalists (IFJ) has referred to comments made last week by Iranian Intelligence and Security Minister Gholam-Hussein Mohseni-Ejei, who claimed that the country's intelligence service has found that the West was recruiting journalists, students, and workers for spying overseas under the guise of research or study.
The Association of Iranian Journalists has told the IJF that the statement will lead to more pressure on journalists as any foreign trips could make them targets of accusation of spying.
Christopher Warren, president of the Brussels-based IFJ, says the pressure from Iran's government is particularly worrying in light of recent closures of newspapers and increased crackdown on media.
Women In Iran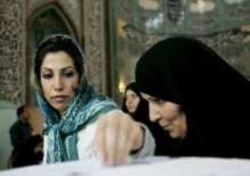 Women in Tehran (epa file photo)

CALLING FOR MORE RIGHTS: Although women played key roles in Iran's 1979 Islamic Revolution, the place of women in post-revolutionary society has been a vexing question. Iranian women have struggled to bring attention to their calls for greater rights in their country's rigid theocratic system, calls that have often clashed with the values proclaimed by conservatives in society. (more)
RELATED ARTICLES
Tehran Police Renew Campaign To Combat 'Un-Islamic' Dress
Iranian Peace Prize Laureate Shirin Ebadi On Women's Rights
Activists Concerned About Self-Immolation Of Iranian-Kurdish Women
The Younger Generation's 'Tehran Blues'
ARCHIVE
RFE/RL's coverage of Iran. RFE/RL's coverage of issues concerning women throughout our broadcast area.

SUBSCRIBE
For a regular review of civil-society developments throughout RFE/RL's broadcast region, subscribe to "RFE/RL (Un)Civil Societies."