The partially declassified report was released late on September 26, hours after U.S. President George W. Bush ordered it declassified to counter media reports he said had its misrepresented conclusions on Iraq.
The top U.S. intelligence analysts conclude that despite serious damage to the leadership of Al-Qaeda, the threat from Islamic extremists has spread both in numbers and in geographic reach.
Bush told reporters at the White House on September 26 he is "not surprised" that terrorists are using the Iraq war as a recruitment tool, but said it was one excuse among many.
"Some people have guessed what is in the [National Intelligence Estimate] and have concluded that going into Iraq was a mistake," Bush said. "I strongly disagree. I think it is naive. I think it is a mistake for people to believe that going on the offense against people [who] want to do harm to the American people makes us less safe."
Bush insists his decision to invade Iraq was necessary to deal with a potential threat. But the U.S. public has become increasingly weary of the war in which about 2,700 U.S. troops have died and sectarian violence is rampant.
(Reuters, AP)
The International Coalition In Iraq
The International Coalition In Iraq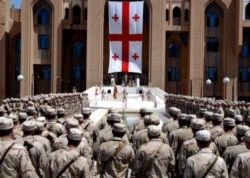 Georgian soldiers marking Georgian Independence Day in Baghdad on June 6 (epa)
COALITION MEMBERS: In addition to the United States, 28 countries are Multi-National Force-Iraq (MNF-I) contributors as of May 31, 2006: Albania, Armenia, Australia, Azerbaijan, Bosnia-Herzegovina, Bulgaria, the Czech Republic, Denmark, El Salvador, Estonia, Georgia, Italy, Japan, Kazakhstan, Latvia, Lithuania, Macedonia, Moldova, Mongolia, the Netherlands, Poland, Portugal, Romania, Singapore, Slovakia, South Korea, Ukraine, and the United Kingdom. Fiji is participating as part of the UN mission in Iraq. Hungary, Iceland, Slovenia, and Turkey are NATO countries supporting Iraqi stability operations but are not part of MNF-I.
NON-U.S. MILITARY PERSONNEL IN IRAQ: United Kingdom, 8,000 as of May 26, 2006; South Korea, 3,237 as of May 9, 2006; Italy, 2,900 as of April 27, 2006; Poland, 900 as of May 30, 2006; Australia, 900 as of March 28, 2006; Georgia, 900 as of March 24, 2006; Romania, 860 as of April 27, 2006; Japan, 600 as of May 30, 2006; Denmark, 530 as of May 23, 2006; All others, 1,140.
(Source: The Washington-based Brooking Institution's Iraq Index of June 15, 2006)


THE COMPLETE STORY: RFE/RL's complete coverage of events in Iraq and that country's ongoing transition.
RADIO FREE IRAQ: To visit the Arab-language website of RFE/RL's Radio Free Iraq, click here.