Rumsfeld Gets Support In Albania, Montenegro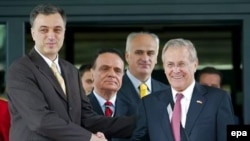 Donald Rumsfeld (right) shakes hands with Montenegrin President Filip Vujanovic in Podgorica on September 26 (epa) September 27, 2006 -- U.S. Defense Secretary Donald Rumsfeld has met with officials in Albania, who reiterated a promise to keep in place the 120 Albanian troops serving in Iraq.
Before the September 26 talks in Tirana, Rumsfeld was in Montenegro, where the prime minister said the country was prepared to participate in the "U.S.-led coalition in fighting terrorism," but made no specific commitment.
Montenegro and Albania both see cooperation with U.S. military and security efforts as a step on the path to NATO membership.
(AP, Reuters)