Mutual distrust continues to drive relations between the Turkish government and the Kurdish regional government, prompting media speculation that armed conflict is just around the corner. This distrust can be seen in the array of comments -- ranging from outright threats to statements of support -- coming from Turkish officials, which points to possible confusion over how to deal with the Iraq issue.
Iraqi President and Patriotic Union of Kurdistan head Jalal Talabani addressed the status of PKK militants hiding out in northern Iraq's mountainous border area during a recent interview for the October 2 issue of "Newsweek" magazine. "We convinced the PKK to stop fighting and within days it will officially announce a cease-fire. This will help Iraq open a new chapter in relations with Turkey," he said. "We are urging the Turkish Kurds to be moderate, to wage their struggle through democratic means."
Turkey Sees Double Standard
Continued pressure by Iraqi Kurdish officials for a peaceful solution to the PKK-Turkey conflict has largely been brushed off by Turkish officials who see an armed solution as the only way to end the conflict.
Iraqi and U.S. officials, they claim, follow a double standard when it comes to dealing with terrorism. "Turkey has no tolerance for applying double standards in the fight against terrorism," Turkish Foreign Minister Abdullah Gul told the UN General Assembly in a September 22 speech.
Meanwhile, some Turkish officials last week expressed optimism over the position of the Iraqi government after Baghdad said it had closed all PKK offices in the country and banned the group from carrying out any activities.
"We welcomed the measures taken by the Iraqi government against PKK activities in Iraq.... We believe that the Iraqi government will take the necessary steps as soon as possible about recognition of the PKK as a terrorist organization, and closure of political parties associated with the PKK. If these measures are put into practice throughout Iraq, we will be able to further develop our cooperation," Turkish parliament speaker Bulent Arinc said in a letter to his Iraqi counterpart, Mahmud al-Mashhadani, Anatolia news agency reported on September 23.
Speaking at the Foreign Police Association in New York on September 25, Gul said that Turkey would be prepared to act unilaterally against the PKK should its allies, Iraq and the United States, refuse to take action. Gul added that Turkish attempts to pressure Iraq into driving the PKK from its territory and force a "permanent solution" have not succeeded.
"The PKK has been nourished in opponent countries for years. However, it lives in friendly nations, which is risky. From now on we expect genuine decisiveness," Zaman Online quoted Gul on September 26 as saying.
Gul added that U.S. President George W. Bush has committed to fighting the PKK. "I believe that there is a brand new opportunity regarding this matter. We will achieve success," he said.
Iraq Protests Interference
Iraqi President Talabani, also making the rounds in the United States, warned against interference by Iraq's neighbors in its internal affairs. Citing Turkey as one of the agitators, Talabani told U.S. National Public Radio in an interview broadcast on September 26 that should the interference continue, Iraq would take steps to respond in kind by supporting opposition groups in neighboring states.
The comment was widely reported in the Turkish press, leading to a backlash among policymakers and officials in Turkey. Justice and Development Party Deputy General Chairman Dengir Mir Firat told reporters on September 26: "Turkey will wage [war] as it has waged it until now. Whether [the PKK] will declare a cease-fire or lay down its arms, that is an issue that concerns them. Talabani's remarks on this issue are also his own concern. We will continue to fight."
Mehmet Dulger, the chairman of the parliament's Foreign Affairs Committee, also dismissed talks of a PKK cease-fire, telling reporters, "We do not sit and negotiate." Regarding Talabani's remarks about Turkey's interference in Iraqi affairs, Dulger claimed in essence that Iraq could do nothing to retaliate against Turkish interference.
Turks Support Turkomans
Meanwhile, a Turkish parliamentary delegation toured the northern Iraqi cities of Irbil, Tuz Khurmatu, Tal Afar, Kirkuk, and Mosul this week, holding a series of meetings with Iraqi Kurdish and Turkoman leaders, as well as U.S. and U.K. consulate personnel.
Justice and Development Party deputy Turhan Comez told reporters before leaving Ankara on September 25 that the delegation was on an "unofficial" visit to send the message that Turkey is ready to assist in a peaceful resolution to the Kirkuk conflict. Iraqi Kurds and Turkomans, who are ethnic Turks, are engaged in a bitter battle over oil-rich Kirkuk. Turkey has consistently supported the Turkoman population of Kirkuk, and Turkoman claims to the city.
Turkish Foreign Ministry spokesman Namik Tan also appeared eager to calm tensions. In a written statement issued on September 26, Tan called Turkey's Iraq policy "transparent," adding that Turkey supports the political unity and territorial integrity of Iraq and will work to offer "constructive contributions to Iraq's security and stability."
...And Anger Kurds
Meanwhile, Kurdish regional Minister for Peshmerga Affairs Sheikh Ja'far Sheikh Mustafa told "Yekgirtu" that the region's peshmerga forces had no intention of attacking PKK strongholds. "There is no such plan. We are not against any Kurdistani or non-Kurdistani force. We believe in dialogue.... We have to follow diplomatic routes to reach agreements," the weekly reported on September 26.
Kurdish press reports echoed the distrust felt by some Iraqi Kurdish officials, and widely reported that the delegation was in Iraq to help set up a coordination group for Iraqi Turkomans in the Turkish parliament.
"If the delegation aims to provide its government with guidelines on the conditions in Kirkuk, the referendum issue [on Kirkuk, slated to be held in 2007], and Article 140 [of the Iraqi Constitution regarding the status of Kirkuk], we would consider it interference and will never accept such moves," Kurdistan Democratic Party International Relations Director Saffin Dizay said, the "Hawler Post" reported on September 27.
While it remains unlikely that Turkey will follow up on its threat of armed conflict, the standoff between Turkish and Iraqi officials does not bode well for regional security. Turkey is likely to continue its intermittent bombing of Iraqi Kurdish areas where it claims PKK militants are based, while trying to agitate the Kurdish region's government with its support of Iraqi Turkomans, particularly in Kirkuk.
Meanwhile, there is little possibility that Baghdad can promise any more progress on the issue, as long as the regional government continues to promote a peaceful resolution of the issue over military action against the PKK.
Iraq's Kurdish Region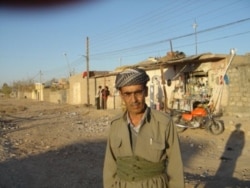 KURDISH AWAKENING: The ethnic Kurdish region in the northern part of Iraq has struggled in recent years to reestablish its cultural and political identity after decades of oppression under the regime of deposed Iraqi President Saddam Hussein. In December, RFE/RL correspondent Charles Recknagel traveled to this area and filed several reports:
Relative Peace Underscores Issue Of Kurdish Region's Future
Kurdish Culture Begins To Flourish In Kurdistan Region
Kurds Ponder How To Strengthen Autonomy After Elections