In the first bombing, a suicide car bomber attacked a police checkpoint, killing two Iraqi soldiers and wounding at least 10 others. The attack was conducted in northeast Baghdad.
According to police Lieutenant Ali Mohsen, a second car bomb exploded about two hours later near a restaurant in central Baghdad. That killed at least five people and injured more than 30. Mohsen said some of the wounded are not expected to survive their injuries.
Meanwhile, Iraqi police say that 40 bodies were found in Baghdad over the past 24 hours. They were all killed execution-style.
The U.S. military on September 27 said murders and executions are now the main cause of civilian deaths in Iraq's capital. The violence is being attributed to sectarian death squads.
(AFP, AP)
Sectarian Iraq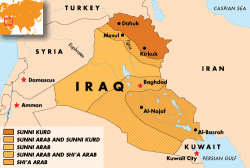 Click to enlarge the image.
SUNNI, SHI'A: Iraq is riven along sectarian lines, faults that frequently produce violent clashes and are a constant source of tension. Sectarian concerns drive much of Iraqi politics and are the main threat to the country's fragile security environment.


THE COMPLETE PICTURE: Click on the image to view RFE/RL's complete coverage of events in Iraq and that country's ongoing transition.