Georgia released the Russians to the Organization for Security and Cooperation (OSCE) on October 2 and they then immediately left Georgia for Moscow.
But a spokesman for Russia's Transportation Ministry, Timur Khikhmanov, said that as of today, all air, rail, road, and sea transport to Georgia has been halted until further notice.
The Communications Ministry said postal services to Georgia have also been suspended.
The Kremlin said the measures against Georgia will remain in force until further notice.
Boris Gryzlov, the speaker of the lower house of parliament, the State Duma, said the measures were aimed against President Mikheil Saakashvili's "regime."
"The release of our servicemen is no reason why we shouldn't discuss a statement [on Georgia] tomorrow, because unfortunately the Saakashvili regime is escalating the situation and the State Duma sees it necessary to react to that," Gryzlov said.
The European Union has urged Russia to lift the "sanctions." EU External Relations Commissioner Benita Ferrero-Waldner told Reuters today that "sanctions do not, particularly in this case, lead anywhere."
The United States has urged Russia and Georgia to "lower the rhetoric."
(AP, ITAR-TASS)
Russia And Georgia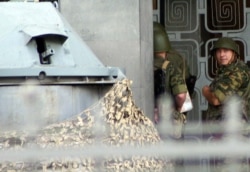 Beefed up security outside Russian military headquarters in Tbilisi on September 27 (InterPressNews)
NOT ALL WINE AND ROSES.
Moscow's relations with Tbilisi since the collapse of the Soviet Union have often been tense and strained. Among the issues that have made the relationship difficult are Moscow's alleged support for the breakaway Georgia regions of Abkhazia and South Ossetia, as well as the continued presence of Russia troops on Georgian territory. Periodically, Georgian lawmakers propose withdrawing from the Commonwealth of Independent States (CIS) altogether. RFE/RL has written extensively about the rocky relationship between these two countries.
RELATED ARTICLES
Saakashvili Seeks Meeting With Putin
Russian-Georgian Friendship Still Warm, Despite Frosty Politics
Georgia To Assess Repercussions Of Quitting CIS
Russia Impounds Georgian Mineral Water
Georgian Agriculture Minister In Moscow For Talks On Wine Ban
Russia Pledges To Complete Georgia Pullout On Schedule
ARCHIVE
RFE/RL's complete coverage of
Georgia
and
Russia
.