Brussels, October 4, 2006 (RFE/RL) -- Kazakh Foreign Minister Toqaev's visit to Brussels serves further notice of the country's intent to convert its vast energy resources into greater regional and global influence.
The origins to Toqaev's address to the European Parliament's Foreign Affairs Committee on October 3 can be found in the EU's increased unease about its energy security.
Toqaev said the Kazakh opposition remains weak and therefore "cannot challenge the government." He added that the Kazakh people have no indigenous tradition of democracy and need to be "educated" before they can fully embrace it.
Energy Source For Europe
Toqaev noted the increasing "fierce" competition for energy among major industrial powers such as the EU, but also China and India. He pointed to instability in many major oil-producing regions and limited capacities to increase production.
Toqaev went on to note that none of these problems affects Kazakhstan.
"In such circumstances Kazakhstan appears to be one of the very few countries capable of boosting its oil production and thus becoming an important alternative energy supplier to global and European markets," he said.
Quoting the EU's own estimates, Toqaev said the wider Caspian region could provide up to 25 percent of Europe's energy needs.
Toqaev said Kazakhstan is interested in greater access to energy infrastructure and assets in Central Europe. He said Astana is "closely examining" the Burgas-Alexandropoulos and Odesa-Brody-Gdansk pipeline projects. He sharply criticized Lithuania for rejecting a Kazakh-supported Russian bid for its Mazheikiai oil refinery.
Kazakhstan, in turn, is seeking $80 billion in investments over the next 15 years. Toqaev appealed to Europe to become "engaged."
No Interest In EU Membership
Toqaev said he had told European Commission officials on October 3 that Kazakhstan wants to join the EU's Neighborhood Policy. He stressed that Astana has no ambitions to join the EU. However, neighborhood policy membership would facilitate EU investments.
Toqaev was less willing to accommodate EU preferences for transit routes. He said Kazakhstan would choose transit routes based on economic considerations. He indicated the construction of a trans-Caspian pipeline to Azerbaijan -- sought by the EU -- is unlikely, as it would be "controversial" for other Caspian littoral countries whose consent is needed.
Kazakhstan's ambitions are well placed to advance with Germany's assumption of the EU's rotating presidency in January. Germany is the EU's largest member state and the only one to have embassies in all five Central Asian capitals.
A German Foreign Ministry official, Gernot Erler, told the "Handelsblatt" newspaper on October 4 that Germany is working on an "EU strategy for Central Asia" and that Foreign Minister Frank-Walter Steinmeier will visit all of the Central Asian countries later this month.
Toqaev's other main goal on October 3 was to canvass EU support for Kazakhstan's bid to lead the OSCE in 2009.
Erler added that Berlin supports Kazakhstan's OSCE bid, saying it could give impetus to reforms.
And the EU has indicated it is not opposed, and on October 3 the larger political groups within the European Parliament gave Toqaev a relatively uncritical reception.
Lead The OSCE?
It was left to Portuguese socialist Deputy Ana Gomes to point out that the OSCE itself has been very critical of Kazakhstan's record.
"Minister, you're bidding for the presidency of the OSCE," she said. "Yet, the OSCE gave a report on your last elections, on the observation of the elections, which said they failed to meet international standards for genuine elections in many important points. And we hear about political dissent being crushed, we hear even about religious groups being crushed."
Toqaev rejected all of the charges. He said the Kazakh opposition remains weak and therefore "cannot challenge the government." He added that the Kazakh people have no indigenous tradition of democracy and need to be "educated" before they can fully embrace it.
The Kazakh foreign minister said religious tolerance is a priority for his government.
Toqaev blamed the OSCE's election report for "technical irregularities" and said the organization appeared "biased," as other observers had found no fault with the election. Toqaev appealed for greater "mutual understanding."
This appeal for diversity formed the centerpiece of Toqaev's argument for Kazakhstan's qualifications to chair the OSCE.
Astana's 'Special Program'
"We strongly believe we could contribute a lot as a representative, as a country which is located in Central Asia," he said. "The geographical dimension of the OSCE has changed [since Kazakhstan joined in 1992], this is a unique Eurasian, as well as Pan-American organization. So, the leadership, the presidency of this organization also must reflect this unique character, [this] unique dimension of the organization."
Toqaev said Kazakhstan acknowledges the need to meet OSCE standards. With this in mind, he said, the Kazakh government has launched a "special program" to modernize the country's political system.
Toqaev said a crucial element of the reforms was the revamping of the Kazakh parliament along multiparty lines.
"Now we are talking about another step of introducing political values in our system," he said. "It means that the parliament in the future will be established on the party dominance, it means that those parties [that] win the parliamentary elections, obtain [a] majority in the parliament, they will be able to establish their own governments. And it's a huge step forward in the process of democratization of my country."
Toqaev blamed "geopolitical" circumstances for the weakness of democracy in Kazakhstan. He repeatedly introduced comparisons with the Baltic countries -- also ex-Soviet republics, but all now members of the EU -- saying Kazakhstan lacks their democratic traditions.
Kazakhstan's Fallen Opposition
Kazakhstan's Fallen Opposition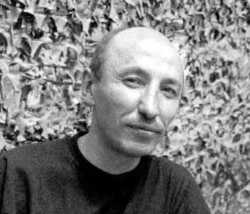 Slain Kazakh journalist Askhat Sharipzhanov (undated RFE/RL file photo)
February 13, 2006:
Altynbek Sarsenbaev
-- a leader of the Kazakh opposition, co-chairman of the Naghyz Aq Zhol party, former minister of information, former Kazakh ambassador to Russia, former secretary of Kazakhstan's Security Council -- is found dead with his bodyguard and his driver, shot to death, execution style, with their hands bound behind their backs.
November 11, 2005: Zamanbek Nurkadilov-- prominent Kazakh politician, former mayor of Almaty, former Minister of Extraordinary Situations, and since a vocal critic of President Nursultan Nazarbaev since March 2004 -- is found shot to death, with two shots in his chest and one in his head. Kazakh authorities officially rule the case a suicide.
June 2, 2005: Batyrkhan Darimbet -- opposition journalist and editor in chief of the weekly AZAT -- is killed in what is officially reported as a traffic accident. Relatives and activists assert that it was a political killing.
December 19, 2004: Erzhan Tatishev -- head of Kazakhstan's largest bank, TuranAlemBank -- is killed in what was officially described as a hunting accident. Kazakh political observers allege that it was a premeditated assassination.
July 20, 2004: Askhat Sharipzhan-- independent journalist and political commentator for NAVI online -- dies of injuries sustained several days earlier in what was officially reported as a hit-and-run accident. Relatives and colleagues believe it was an assassination.
November17, 2002: Independent journalist Nuri Muftakh is killed in what is officially reported as a traffic accident. Colleagues and activists regard the death as suspicious.
January 4, 2002: Human rights activist Aleksei Pugaev is found dead, the victim of a hit-and-run car accident. Colleagues regard the circumstances as suspicious and no one is ever arrested in connection with the death.
(compiled by RFE/RL's Kazakh Service)
RELATED ARTICLES
Sarsenbaev Murder Trial Begins
Kazakh President Tries To Calm Growing Political Crisis
Nazarbaev Landslide Buries Future Problems
Nazarbaev Touts Stability In Run-Up To Election
ARCHIVE
To view an archive of RFE/RL's coverage of Kazakhstan, click here.

SUBSCRIBE
For weekly news and analysis on all five Central Asian countries by e-mail, subscribe to "RFE/RL Central Asia Report."