NEW YORK, September 29, 2006 (RFE/RL) -- A little-known document signed by U.S. President George W. Bush in January 2004 prohibits entry into the country of "public officials engaged in or benefiting from corruption."
But Sasha Gupman, Freedom House's senior program manager for Central Asia, tells RFE/RL that when Nazarbaev meets Bush at the White House on September 29 he should not have any worries about Kazakhgate.
In that case, an American adviser to Nazarbaev in the mid-1990s is accused of funneling millions of dollars in bribes to the Kazakh president. Nazarbaev's name is featured in court papers as an alleged recipient of kickbacks in exchange for big oil contracts and in relation to numerous bank accounts in the United States and Switzerland.
"It's the PR game. When this [Kazakhgate] first came out, if you remember...it was huge. And there were concerns about U.S. investments in Kazakhstan and I think [that] for a short time period it did hurt those investing in the country."
PR Campaign For Kazakhstan
"By his visit he is de facto trying to clear his name," he said. "Even if [Kazakhgate] is not brought up at all, the mere fact that the U.S. government agreed to this visit is a huge legal defense for him."
Coinciding with Nazarbaev's trip to the United States, the Kazakh government has placed major advertisements in "The New York Times" and the "International Herald Tribune" under the headline "Kazakhstan In The 21st Century: Looking Outward." A commercial has also appeared on BBC World television. The articles are aimed at a wider Western audience and paint Kazakhstan as a cosmopolitan country of religious tolerance, a strong economy, and captivating nature. All this, Gupman says, is a part of the Kazakh government's boisterous public-relations campaign.
"What he's doing in D.C. [Washington] and the United States is the same that he's done in his own country, which is trying to launch a cult of personality," Gupman said. "So, he has tried to take that same strategy and apply it to the United States. I have no idea how effective it is, I find these advertisements to be silly, and if anyone [in the U.S.] follows Kazakhstan at all, they'll realize the inaccuracy and the blatant attempt to try to influence people's opinion away from the actual news."
Edward Schatz, an assistant professor of political science at the University of Toronto and an expert on Central Asian affairs, tells RFE/RL that the Kazakh government spends significantly more money on its propaganda efforts overseas than any of the other Central Asian states.
"I suspect that it's quite out of the norm," he said. "And if you take it on a per capita basis, per citizen of the country, the dollars spent per citizen on PR, it's just astounding in the case of Kazakhstan."
Roman Vasilenko, the press secretary at the Kazakh Embassy in Washington, D.C., did not respond to requests by RFE/RL for comment on the cost and expected impact of the advertisements.
Victory For Nazarbaev?
When Kazkahgate was making headlines in 2002 and 2003, many suggested that Nazarbaev would not dare travel to the United States unless guarantees were provided that he would be immune from any possible legal action resulting from the case. One scenario was that during a visit he might have been handed a court subpoena requiring him to testify at the trial as a witness. But all this, says Gupman, is no longer a possibility.
"A lot of what Nazarbaev and Kazakhstan are concerned about is not the actual legal case," he said. "No one's going to hand down a fine that Nazarbaev would be worried about, they are not going to put him in jail. It's the PR game. When this [Kazakhgate] first came out, if you remember...it was huge. And there were concerns about U.S. investments in Kazakhstan and I think [that] for a short time period it did hurt those investing in the country. But what we've seen is a gradual decline of interest."
Schatz says that Nazarbaev might have taken a small legal risk with his trip to the United States, but that the risk was worthwhile.
"It is certainly a legal victory, whether it's the ultimate legal victory, whether it's a permanent green light or a temporary one, I don't really know," he said. "My sense is that it could actually become -- there's nothing to prevent the court case in New York from taking any number of directions. I think it indicates a confidence on the part of Nazarbaev that he won't be in the scenario of any of this. I also think -- let's not underestimate this moment -- it indicates on the part of Nazarbaev that this is a PR move -- to physically show up is a way to suggest confidence even if he doesn't naturally have it. It's a way to project confidence and that's an important thing vis-a-vis his domestic opponents."
Steven Cohen, the legal representative for Kazakhgate defendant James Giffen -- who is accused of giving the bribes to Nazarbaev -- tells RFE/RL that legal moves on the part of the defense team to further postpone the trial are an option.
"Currently the trial is set to begin in mid-January [2007]," he said. "I get paid to make legal moves. Not guilty, he is not guilty and I will take it to trial."
Prosecutors in the case have not spoken publicly and have declined RFE/RL requests in the past for comment.
Kazakhstan's Fallen Opposition
Kazakhstan's Fallen Opposition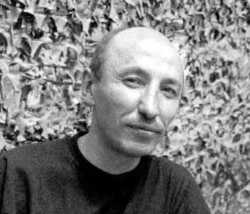 Slain Kazakh journalist Askhat Sharipzhanov (undated RFE/RL file photo)
February 13, 2006:
Altynbek Sarsenbaev
-- a leader of the Kazakh opposition, co-chairman of the Naghyz Aq Zhol party, former minister of information, former Kazakh ambassador to Russia, former secretary of Kazakhstan's Security Council -- is found dead with his bodyguard and his driver, shot to death, execution style, with their hands bound behind their backs.
November 11, 2005: Zamanbek Nurkadilov-- prominent Kazakh politician, former mayor of Almaty, former Minister of Extraordinary Situations, and since a vocal critic of President Nursultan Nazarbaev since March 2004 -- is found shot to death, with two shots in his chest and one in his head. Kazakh authorities officially rule the case a suicide.
June 2, 2005: Batyrkhan Darimbet -- opposition journalist and editor in chief of the weekly AZAT -- is killed in what is officially reported as a traffic accident. Relatives and activists assert that it was a political killing.
December 19, 2004: Erzhan Tatishev -- head of Kazakhstan's largest bank, TuranAlemBank -- is killed in what was officially described as a hunting accident. Kazakh political observers allege that it was a premeditated assassination.
July 20, 2004: Askhat Sharipzhan-- independent journalist and political commentator for NAVI online -- dies of injuries sustained several days earlier in what was officially reported as a hit-and-run accident. Relatives and colleagues believe it was an assassination.
November17, 2002: Independent journalist Nuri Muftakh is killed in what is officially reported as a traffic accident. Colleagues and activists regard the death as suspicious.
January 4, 2002: Human rights activist Aleksei Pugaev is found dead, the victim of a hit-and-run car accident. Colleagues regard the circumstances as suspicious and no one is ever arrested in connection with the death.
(compiled by RFE/RL's Kazakh Service)
RELATED ARTICLES
Sarsenbaev Murder Trial Begins
Kazakh President Tries To Calm Growing Political Crisis
Nazarbaev Landslide Buries Future Problems
Nazarbaev Touts Stability In Run-Up To Election
ARCHIVE
To view an archive of RFE/RL's coverage of Kazakhstan, click here.

SUBSCRIBE
For weekly news and analysis on all five Central Asian countries by e-mail, subscribe to "RFE/RL Central Asia Report."