Businessman Warned U.S. About Kazakh Corruption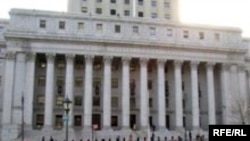 The U.S. Federal Courthouse in New York City (file photo) (RFE/RL) New York, 1 December (RFE/RL) -- Court records indicate that an American businessman warned U.S. intelligence agencies about corruption in Kazakhstan's oil sector as far back as 1996.
The information is enclosed in documents from a federal court in New York where the businessman, James Giffen, is currently standing trial in the so-called "Kazakhgate" bribery case.
The documents indicate that according to a U.S. intelligence summary dated June 1996, Giffen's reports were well received within the U.S. administration.
However prosecutors argue Giffen was considered a "problematic" and "unreliable" source for the government.
Giffen is accused of siphoning millions of dollars in kickbacks to top Kazakh officials in exchange for lucrative oil and gas concessions in Kazakhstan.
The beginning of the trial has been postponed numerous times and the latest date is set for April 2006.