World Powers To Meet For Iran Talks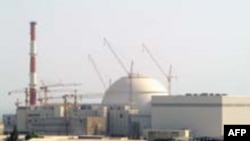 Iran's Bushehr nuclear plant (AFP) October 6, 2006 -- Foreign ministers from the five permanent members of the UN Security Council -- Britain, France, China, Russia, and the United States -- plus Germany, seeking to defuse the Iran nuclear crisis, will hold talks in London later today.
A British Foreign Office spokesman told Reuters that the meeting will "discuss the next steps on Iran."
World powers are divided on how best to solve the crisis. Washington is pushing for sanctions at the United Nations, but this has met opposition from Russia and China.
On October 5, EU foreign-policy chief Javier Solana said that the door to dialogue should stay open.
Iran reiterated the same day that it would not stop uranium enrichment, but that it wanted to solve the deadlock with talks.
Tehran says its nuclear program is just for the generation of power, but the West is concerned that it could be making a nuclear bomb.
(compiled from agency reports)

THE COMPLETE PICTURE: RFE/RL's complete coverage of controversy surrounding Iran's nuclear program.
CHRONOLOGY
An
annotated timeline
of Iran's nuclear program.