Ayatollah Boroujerdi says that in the past 14 years, he has been summoned on numerous occasions to the Special Court for Clergy and spent months in prison. He claims he still suffers from health problems stemming from torture he was subjected to in prison.
"I was in prison in 1995 for several months. Then, in 2001, I was also arrested several times -- they confiscated two of my mosques," Boroujerdi says. "It's ridiculous -- an establishment that says it is Islamic confiscates an active and open mosque. In 1979, the marjah [source of emulation] at that time, Mr. Golpayegani, put me in charge of the Hematabad mosque. Only a few people used to go to that mosque -- but in 2001, when they took it away from me, many people were coming there. We always faced a lack of space for prayers."
Nipping A Threat?
The Shi'ite cleric says pressure has increased significantly since the summer, following a gathering he held for his supporters. He claims that thousands of people attended his June 30 religious meeting in Tehran's Shahid Keshvari stadium.
"About 2 1/2 months ago, there was something similar to a coup d'etat against me -- because our last meeting was such that it shook the city and it made the establishment think that if they don't stop me, then there will be millions of people [supporting me]," Boroujerdi says. "So they began harassing me; they surrounded my house for two months."
"Ayatollah Boroujerdi has never polluted religion with politics."
Ayatollah Boroujerdi claims that many of his supporters have also been targeted. He says in recent weeks, more than 100 people have been arrested and tortured in jail. He says some have been fired from their jobs, and others have been under pressure to campaign against him.
Iranian officials have been silent on the topic.
But earlier this week, Amnesty International reported that at least 41 of Boroujerdi's followers were arrested in his courtyard. The rights group has warned that the cleric could be at risk of imminent arrest.
State And Religion
The ayatollah says his belief in the separation of religion from politics and his refusal to support "political religion" have drawn the ire of Iran's leaders. Iran's Islamic establishment is based on the principle of "velayat-e faqih," or the rule of the Islamic jurist.
Reports have emerged in recent years of other clerics and dissidents who have criticized the velayat-e faqih principle being persecuted in Iran.
They include the late Grand Ayatollah Kazem Shariatmadari, an influential Iranian cleric who was placed under house arrest in the 1980s.
Shariatmadari's son, Hassan, lives in Germany. He told RFE/RL that some 27 years after the establishment of an Islamic republic in Iran, many of the country's clerics have realized that the involvement of religion in politics subjugates religion to the will of the state.
"The political establishment forces them to accept its demands and interpret the religion in accordance with the establishment's needs," Hassan Shariatmadari says. "Most clerics have realized this, but because of the heavy price of opposition to the regime, most of them do not have the courage to express [that view] publicly. Ayatollah Boroujerdi has been able to express the demand for the separation of religion from politics very openly -- to a wide audience and with boldness. This is something that this establishment doesn't like."
Shariatmadari says he thinks Iran's leadership feels threatened by Ayatollah Boroujerdi because they are concerned that other clerics could follow his example.
Not Remaining Quiet
Boroujerdi told RFE/RL that the authorities have threatened him with execution, and told him that the clergy should speak in a united voice.
Boroujerdi has written letters to Pope Benedict XVI and to EU foreign-policy chief Solana noting what he calls the "suspicious death" in 2002 of his father, Ayatollah Seyyed Mohammad Ali Kazemeyni Boroujerdi, who was also a prominent cleric. He claims Iranian authorities expropriated the mosque where his father had preached and destroyed his father's grave.
But Boroujerdi remains defiant. "I demonstrate that real Islam is free of political ornaments," he says. "It is included in verses whose interpretation is different than that provided by [the authorities]. Its interpretation is from 1,428 years ago. It is about the rule of the Prophet [Muhammad] and how he lived; he was against repression and opposed discrimination. Our divine leaders took food from their mouths and the mouths of their children to give it to the poor. Today, unfortunately, despite the immense wealth of this country, people live in poverty."
'People Have Turned Away From God'
Boroujerdi says many Iranians have lost faith in religion because of the worsening economic situation, including high inflation and unemployment.
He argues that under the shah's regime, people's faith in Islam was much stronger. He thinks belief in God has actually fallen victim to Iran's theocracy.
"When people lose their income, they directly blame the establishment and they become angry at God," Boroujerdi says. "I've said many times that we should help people worship their God again and make peace with God. Today we are in the month of Ramadan, [but] many people have turned away from God because of repression, discrimination, and pressure."
One of the ayatollah's devotees, Hamid, told RFE/RL that Boroujerdi's views and defiance have won him support from Iranians of different classes.
"Ayatollah Boroujerdi has never polluted religion with politics," Hamid says. "He has not become involved in politics, and he has always supported the needy. He has always said, 'I'm a supporter of the wretched.' This is, I think, one of the reasons for his popularity."
Hamid says he is ready to support the ayatollah even "until martyrdom."
The Structure Of Iran's Government
The Structure Of Iran's Government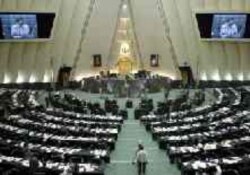 INSIDE THE ISLAMIC REPUBLIC: Iran is a theocratic Islamic republic governed under a 1979 constitution that was revised in 1989, when presidential powers were expanded and the prime minister's post was abolished.
Appointed -- not elected -- offices and bodies hold the real power in the government. The supreme leader, who serves as a chief of state would, is appointed for life by an Islamic religious advisory board that is called the Assembly of Experts. The supreme leader oversees the military as well as the judiciary and appoints members of the Guardians Council and the Expediency Council.
The Guardians Council -- some of whose members are appointed by the judiciary and approved by the parliament -- works closely with the government and must approve political candidates and legislation passed by the parliament. The Expediency Council is responsible for resolving legislative disputes that may arise between parliament and the Guardians Council over legislation.
The president, who is popularly elected for a four-year term, serves as the head of government. The legislative branch is made up of a 290-seat body called the Majlis, whose members are elected by popular vote for four-year terms...(more)
ARCHIVE
RFE/RL's
coverage of Iran
.