Foreign Ministry spokeswoman Nino Kajaia said the plane carrying the deportees from Moscow was expected later today in Tbilisi.
The deportation is the latest in a series of sweeping measures against Georgian migrants, including tightening of immigration controls and raids on Georgian-owned businesses amid the fallout from a spying row between Moscow and Tbilisi.
A Moscow Education Department official today confirmed media reports that police had contacted schools to look for Georgian children whose parents might be illegal migrants, but an Interior Ministry spokesman denied them.
Russia has severed transport and postal links with Georgia in retaliation for the arrest of four Russian soldiers who were subsequently released.
In other news, President Mikheil Saakashvili says his National Movement party has won Georgia's municipal elections.
The Central Election Commission has yet to release preliminary official results, but Saakashvili cited exit polls released shortly after polling stations closed on October 5.
The opposition accused him of seeking to falsify the vote.
(Interfax, AFP, Reuters, AP)
Russia And Georgia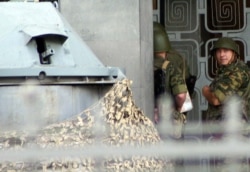 Beefed up security outside Russian military headquarters in Tbilisi on September 27 (InterPressNews)
NOT ALL WINE AND ROSES.
Moscow's relations with Tbilisi since the collapse of the Soviet Union have often been tense and strained. Among the issues that have made the relationship difficult are Moscow's alleged support for the breakaway Georgia regions of Abkhazia and South Ossetia, as well as the continued presence of Russia troops on Georgian territory. Periodically, Georgian lawmakers propose withdrawing from the Commonwealth of Independent States (CIS) altogether. RFE/RL has written extensively about the rocky relationship between these two countries.
RELATED ARTICLES
Saakashvili Seeks Meeting With Putin
Russian-Georgian Friendship Still Warm, Despite Frosty Politics
Georgia To Assess Repercussions Of Quitting CIS
Russia Impounds Georgian Mineral Water
Georgian Agriculture Minister In Moscow For Talks On Wine Ban
Russia Pledges To Complete Georgia Pullout On Schedule
ARCHIVE
RFE/RL's complete coverage of
Georgia
and
Russia
.