The Duma statement said the referendum was legitimate and the international community should recognize its results.
In the September 17 referendum, more than 97 percent of voters backed independence for Transdniester, with the ultimate goal of union with Russia.
Both the United States and the EU have said they do not recognize its results.
(Interfax)

What Comes After The Referendums?
What Comes After The Referendums?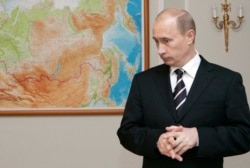 Russian President Vladimir Putin at his presidential residence outside of Moscow in July (TASS)
EXPANSION PLANS?
Russia is well equipped -- at least constitutionally -- to absorb breakaway republics like Transdniester, Abzhazia, and South Ossetia into its federation.
In 2001, on the initiative of Russia's presidential administration, the Duma approved a law that allows the Russian Federation to absorb not only foreign states, but also their parts. This includes entities that have no physical borders with Russia, for example Transdniester.
The law, however, stipulates that the territorial exchanges can be done only after legal agreement with the central government of the country to which the breakaway territory belongs.
Since the law was passed, various deputies and bodies have tried to change the legislation in order to make it easier for Russia to incorporate foreign territories. In July 2004, Andrei Kokoshin, the chairman of a Duma committee on links with CIS and other foreign countries, asked the Supreme Court what would be the quickest way of Russia legally absorbing South Ossetia. The court ruled that incorporating South Ossetian territory into the Russian Federation could only be done in talks with the Georgian government.
In 2005, the Duma rejected proposals from the nationalist Motherland party that Russia could incorporate foreign territory based only on the will of a local population. By this logic, Russia, with its interethnic problems, could also become the victim of similar tactics from neighboring states. For example, in Finland, Estonia, and Latvia there are public groups making claims on Russian territory.
So what is Moscow likely to do after the referendums in Transdniester and South Ossetia? First, it will begin a campaign to get international legal recognition of the results of the polls. Second, it will recognize the results of the referendums and encourage its allies in the Commonwealth of Independent States (CIS) to do the same.
It could also feasibly incorporate them in the CIS. Or unite them in a kind of mini-CIS-2. The leaders of Transdniester, South Ossetia, and Abkhazia have already formed, under Russian patronage, an alliance of "unrecognized states" and signed an agreement of mutual political and military support.
And Moscow is also likely to encourage its own internal regions, which are not subject to international law, to recognize the breakaway regions. For example, Yury Luzhkov, the mayor of Moscow, recently said that "Moscow recognizes South Ossetia and Abzhazia."