Moscow police said Politkovskaya's body was found by a neighbor in an elevator in the apartment building where she was living in the city center.
The Interfax news agency quoted police officials as saying a pistol and four bullets were found in the elevator.
Politkovskaya was respected for her critical, in-depth coverage of the Russian government's campaign in Chechnya. She worked for "Novaya gazeta," a newspaper known for its opposition to the Kremlin.
MORE: Coverage
in Russian
from RFE/RL's Russian Service.
In 2002, she acted as a negotiator with Chechen rebels who laid siege to a Moscow theater.
In 2004, she fell seriously ill with symptoms of food poisoning after drinking tea on a flight from Moscow to southern Russia during the school hostage crisis in Beslan, North Ossetia.
At the time, her colleagues suspected it was an attempt on her life.
Politkovskaya also wrote critical books on Russian President Vladimir Putin and his campaign in Chechnya. She had been arrested and complained of sometimes being threatened.
Demand For Goverment Action
The International Federation of Journalists (IFJ), a media watchdog based in Brussels, today called on Russian President Vladimir Putin's government to act swiftly to bring Politkovskaya's killers to justice.
IFJ Secretary-General Aidan White told RFE/RL that Politkovskaya's slaying was clearly a "targeted assassination."
"For the IFJ, it's very clear to us that when a journalist of such a reputation can be killed in this way, it reflects on the state of lawlessness that is threatening to overwhelm the whole of Russian journalism," White said.
White called Politkovskaya the "bravest of a new breed of brave Russian reporters."
In New York, the Committee to Protect Journalists described the killing as a "devastating development for journalism in Russia."
Paris-based Reporters Without Borders said, "Russia is a violent country and violent to journalists."
The killing was also condemned by rights watchdog Amnesty International, and by former Soviet President Mikhail Gorbachev.
There has been no immediate reaction from the Kremlin.
(with agency reports)
Press Under Assault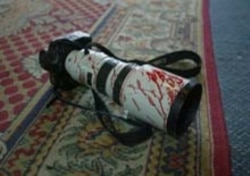 (AFP)
BREAKING THE NEWS: Press freedom is under assault in virtually all of the countries of the former Soviet Union. Independent media confront enormous challenges in providing citizens with the independent information that can help advance democratic reforms. On May 2, RFE/RL's Washington office hosted a roundtable briefing that gave an overview of media developments in the CIS and discussed the connections between press freedom and future democratization. The briefing featured Freedom House Director of Studies CHRISTOPHER WALKER, American University Associate Research Professor ROBERT ORTTUNG, and RFE/RL Central Asia analyst DANIEL KIMMAGE.
LISTEN
Listen to the entire briefing (about 90 minutes):
Real Audio Windows Media
RFE/RL's Press Freedom Day stories:
Iraq: Covering The Most Dangerous Beat On Earth
Afghanistan: Women In Journalism Battle Restrictions, Threats
Iran: State Maintains Tight Control Over Information
CIS: Press Freedom In Former Soviet Union Under Assault
Central Asia: Bureaucratic Obstacles Hinder Journalists
Central Asia: Governments Wary Of Independent Media
Central Asia: Journalists Still Face Harassment, Threats

THE COMPLETE STORY: To view an archive of RFE/RL's coverage of media-related stories, click here.
SUBSCRIBE
For regular news and analysis on media issues throughout RFE/RL's broadcast area by e-mail,
subscribe to "RFE/RL Media Matters."