Ban received 14 of the 15 votes in the UN Security Council's October 2 informal ballot, including the votes of all five permanent veto-yielding members. The council still must hold a formal vote on October 9 and then recommend the candidate to the UN General Assembly for final approval, but with such strong support Ban is virtually assured to get the job.
As an 18-year-old, Ban Ki-moon won first prize in an English-language competition. The reward was a trip to the United States, where he met then U.S. President John F. Kennedy. It was a decisive moment that Ban says convinced him to become a diplomat.
His diplomatic career now covers 36 years, including an ambassadorship in Austria. Ban is no novice to the UN, having worked for the organization for over 10 years.
Seen As Strong Mediator
JaHyun Kim Haboush, the director of the Center For Korean Research at Columbia University, told RFE/RL that Ban's manner of doing things is subdued, but when needed, he can be assertive.
"He is someone who really can mediate between people with very different opinions."
"The general idea of him is that he is a very competent administrator and he is sort of a conciliator," she says. "He is someone who really can mediate between people with very different opinions."
Kofi Annan is perceived by many as a confident secretary-general, a man with a strong sense of mission. Ban, on the other hand, is often described as unassuming politician who can get along with everybody.
Ian Williams, UN correspondent for "The Nation" magazine and editor of "The Congressional Quarterly Guide to the UN," says that it is exactly Ban's skill at finding compromises in tough cases that may win him support from the big players.
"You find that the great powers on the Security Council often pick people because they think they're low-key and will do what they are told," Williams says. "But, of course, actual possession of the office changes people's mind and they feel that they have strong stands to take. Ban Ki-moon has expressed strong support for things like the responsibility to protect the International Criminal Court, which is not exactly music to the ears of either China, or the U.S., or [U.S. Ambassador to the UN] John Bolton."
Striking A Balance
Williams says that Ban's experience as a foreign minister prepared him well for the UN's top job. "It's quite clear that he is a person of integrity. He himself, when I asked him last week over the issue of negotiating with the United States, has pointed out that as the foreign minister of South Korea, he's had to sort of balance between the Russians, and the Chinese, and the North Koreans, and the Japanese, and the United States," he says.
"And I think if you look at the South Korean foreign policy in the last few years under this government -- they have in effect been more independent [of Washington] than [has British Prime Minister] Tony Blair, and Tony Blair hasn't had the excuse of the sort of 'Scotland has gone communist with nuclear weapons' threat," Williams adds. "So he [Ban] has shown a remarkable independence under the circumstances."
Among the tests awaiting any new secretary-general will be to continue the reform process in the organization initiated by Annan last year. The new leader will face the resistance of a powerful bureaucracy and will have to deal with issues of inefficiency, mismanagement, and alleged corruption within the UN.
Charles Armstrong, who is an expert on modern Korean history at Columbia University, says that Ban is keenly interested in continuing the reform process and, so far seems to have a good grasp on it.
"He has been very clear that he is very much going to be pro-active in the UN reform process, that he's going to continue it deep, and it would seem that he's going to be very interested in continuing the reform and putting it into practice, many of the goals that UN has laid out over the last year," Armstrong says. "And precisely because he has been effective at maneuvering among these competing interests, he may be in fact a good person to do that."
Korean Advantage?
Armstrong says that being a Korean may put Ban in a sensitive position when dealing with UN matters related to North Korea. The announcement on October 3 by the North Korean government that it plans to conduct a nuclear-weapons test brings the issue to the forefront at the UN and were Ban elected as the new secretary-general, he would have to exercise caution so as not to appear to be acting as South Korea's foreign minister.
On the other hand, Armstrong, says, being Korean may give Ban an advantage no previous secretary-general has had "because indeed he would not have a language problem with the North Koreans and he would understand their cultural perspective. So if he gains the trust of the North Koreans, then he might be able to get the kind of a breakthrough in the North Korean crisis that no previous secretary-general has been able to do so far," Armstrong says.
Ban married his high-school sweetheart and they have three children. One of Ban's daughters now works for UNICEF in Africa.
The Next UN Secretary-General?
The Next UN Secretary-General?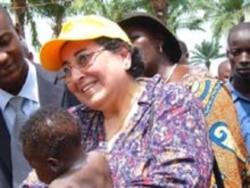 Thoraya Ahmed Obaid (courtesy photo)

The women's rights group Equality Now has noted that no woman has held the position of secretary-general of the United Nations in its 60-year history. While geographic regions take "turns" in nominating candidates, women have never had their "turn," despite many qualified candidates. Below -- in no particular order -- is a selection of some of the women that Equality Now has put forth as possible candidates for secretary-general.
SADAKO OGATA served as the United Nations High Commissioner for Refugees (UNHCR) from 1991 to 2000. Before her career as UNHCR, she was the independent expert of the United Nations Commission on Human Rights on the Human Rights Situation in Myanmar in 1990. In 1982-85, she was also representative of Japan on the United Nations Commission on Human Rights. Ogata has also been a prominent academic figure, serving as dean of the Faculty of Foreign Studies at Sophia University in Tokyo from 1989 until 1991. Prior to that she was director of the Institute of International Relations at the same university.
TARJA KAARINA HALONEN is the current and first female president of Finland. She is currently running for a second term. Halonen has a master of law degree from the University of Helsinki. She is a very popular politician and she was Finland's foreign minister from 1995 until 2000.
AUNG SAN SUU KYI is the 1991 winner of the Nobel Peace Prize. As a pro-democracy campaigner and leader of the opposition National League for Democracy party (NLD), she has spent most of the past 16 years in some form of detention under Burma's military regime. Born on 19 June 1945 to Burma's independence hero, Aung San, Suu Kyi was educated in Burma, India, and the United Kingdom. Her father was assassinated when she was 2 years old.
THORAYA AHMED OBAID is the executive director of the United Nations Population Fund (UNFPA), the world's largest multilateral source of population assistance. Obaid was appointed head of UNFPA on 1 January 2001 with the rank of undersecretary-general of the United Nations. She is the first Saudi Arabian to head a United Nations agency. Before joining UNFPA, Obaid was deputy executive secretary of the Economic and Social Commission for Western Asia (ESCWA) from 1993-98. In 1975, Obaid established the first women's development program in Western Asia.
GRO HARLEM BRUNDTLAND served three terms as prime minister of Norway in the 1980s and 1990s and was director general of the World Health Organization (WHO) in 1998–2003. In the 1980s, she gained international recognition by championing the principle of sustainable development as the chairwoman of the World Commission of Environment and Development (the Brundtland Commission).
(Compiled by RFE/RL; to see the complete list, click here.)