The Central Asian nations of Turkmenistan and Uzbekistan rank among the top offenders on the NGO's so-called "Worst of the Worst" list, as does the Russian republic of Chechnya. Freedom House says it hopes the list will be used by national governments and the United Nations to address the world's most pressing human rights abuses.
Freedom House says its "Worst of the Worst" list is especially critical in a year when the United Nations' newly formed Human Rights Council begins work.
The list, which covers the period from December 1, 2004, to November 30, 2005, pinpoints eight countries as having the worst human rights records over the past year. They are: Burma, Cuba, Libya, North Korea, Sudan, Syria, Turkmenistan, and Uzbekistan.
It also calls attention to two territories, Chechnya and Tibet, where civilians are subject to what Freedom House calls intense repression.
The report rates 192 countries in terms of political and civil freedoms, assigning labels of "free," "partly free," and "not free." This year, 46 percent of the countries were ranked as "free"; an additional 30 percent were "partly free."
Overall, says Kristie Evenson, the director of Freedom House Europe, the trend during the past decade has been an expansion, rather than reduction, of freedoms.
Central Asian Trend
There are, of course, exceptions. Evenson says the general tendency in Central Asia appears to be a regression away from democratic development.
The most pronounced examples are two of the lowest-ranked countries in the Freedom House report, Turkmenistan and Uzbekistan. Both received the poorest possible rating in terms of civil liberties and political rights, and were deemed "not free."
Uzbekistan, the site of the May 2005 Andijon massacre, was noted as undergoing a decline in civil liberties.
Speaking to RFE/RL from Freedom House's European headquarters in Budapest, Evenson said the trend is evident throughout Central Asia -- with one possible exception, Kyrgyzstan, which received a rating of "partly free."
"Kyrgyzstan has shown some potential promise on the political front," she says. "But the general trend in Central Asia is actually a constriction of freedom. What we're seeing in Central Asia is a continuing tightening of a lot of these regimes in terms of having little hope for political freedom or civil liberties that will have an improvement in the near future, particularly in places like Uzbekistan and Turkmenistan."
Little Hope In Chechnya
Chechnya was also singled out for particular criticism. Russia overall received a rating of "not free." Its breakaway republic, the site of a civil war that has raged since 1999, saw a continuation of the conflict in 2005, with no letup in accompanying reports of torture, disappearances, and war crimes.
The Freedom House report notes that the year also marked the March assassination of Chechen rebel leader Aslan Maskhadov. That, the report says, "further reduced already faint hopes that a peaceful resolution to the crisis could be achieved."
Evenson says the situation in Chechnya appears to offer little hope.
"On Chechnya, following a trend unfortunately for almost a whole decade, it's got the lowest category, qualifying it for the 'worst of the worst.' We don't witness any real improvement in political and civil liberties. The security situation has continued to make any real participation by citizens more fiction than fact, and this situation doesn't look to be improving in the near future," she adds.
Azerbaijan A Concern
The South Caucasus nations of Georgia and Armenia fared slightly better, both maintaining ratings of "partly free."
Azerbaijan, however, was penalized, receiving a rating of "not free." Evenson says the rating is due in part to the country's November 2005 parliamentary elections, which came under widespread criticism as flawed by ballot stuffing and other procedural violations:
"The score of Azerbaijan is a consistent score from years past where we don't see a lot of political reform efforts that happened during the time of the report," Evenson says. "What we do see is a questionable election process, judicial processes that don't appear to be fair, and freedom-of-assembly issues clearly have been of concern in Azerbaijan."
Belarus, Ukraine Going In Opposite Directions
Among the worst-ranked nations was Belarus, which has received a rating of "not free" every year since the Freedom House survey was launched in 1996.
The NGO says the regime of President Alyaksandr Lukashenka grew increasingly dictatorial during 2005, with authorities clamping down on free media and public expression in its bid to ensure Lukashenka's reelection in 2006.
One bright spot on the list was Ukraine, the only country in the former Soviet Union, besides the Baltic states, to receive a rating of "free."
The report spans the period that saw the conclusion of the Orange Revolution, the nonviolent public movement that brought pro-Western politician Viktor Yushchenko to power. Evenson says that, and the largely peaceful transfer of power that followed, contributed in large part to Kyiv's positive rating.
"Ukraine is having the promise of quite a lot of political and civil reforms," she says. "When you see that, when this study was conducted, we did have an orderly changeover of government with a respect to the legislation that was in place, political and electoral processes as well as the beginning of a reform of a larger legislative system, it provides hope that the mechanisms and structures in Ukraine -- although still very weak -- can produce the beginnings of a base of a more viable and long-lasting democracy."
Elections In Iran, Iraq, Afghanistan
Iran and Iraq both received ratings of "not free." Iraq saw some improvement was credited with an improvement in its political rights over a period that saw the country's first national elections since the toppling of Saddam Hussein -- the January 2005 vote for the pre-parliamentary National Assembly.
June 2005 saw presidential elections in Iran bring hard-liner Mahmud Ahmadinejad to power, prompting the United States to criticize the ballot as "flawed."
Evenson says the Islamic Republic remains hampered by a weak political mechanism.
"The core of their problems is a political system which is either young, very weak, in formation, or quite highly suppressive in the case of Iran," she says. "In terms of how that affects the citizens in these countries, what we're seeing is that their basic rights to be part of the democratic process, to be able to express basic civil and political rights, is still quite constricted or is being more constricted."
Afghanistan, which received a rating of "partly free" in the new Freedom House report, in 2005 completed the Bonn process initiated after the fall of the Taliban regime to create a system of democratic governance.
Its September parliamentary and provincial-council elections were marked by unusually low voter turnout, but were generally deemed to be free and fair.
Bosnia-Herzegovina, Macedonia, and Moldova all received ratings of "partly free." What was then Serbia and Montenegro, and has since become two distinct, independent countries, was ranked as "free."
UN Human Rights Council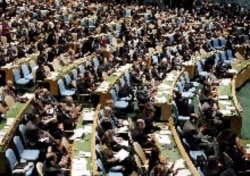 UN General Assembly delegates applaud the creation of the UN Human Rights Council on March 15, 2006 (epa)
A FRESH START ON HUMAN RIGHTS: The United Nations General Assembly on May 9 elected members to its new Human Rights Council, a step that reformers hope will help improve the United Nations' sullied record on defending human rights. The UN's old human rights watchdog -- the Commission on Human Rights -- had long been criticized for granting membership to countries with dismal human rights records, such as Cuba, Sudan and Zimbabwe.
Every member of the new body has to pledge to promote human rights. (more)
RELATED ARTICLES
General Assembly Votes To Create New Rights Council
Vote On Human Rights Council In Limbo Over U.S. Objections
At 60, UN Gripped By Debate on Human Rights Reform
SUBSCRIBE
For a regular review of civil-society developments throughout RFE/RL's broadcast region,
subscribe to "RFE/RL (Un)Civil Societies."