South Korean media report that the test was conducted at 10:36 a.m. local time near Kilju, in the northeast of the country. U.S. and South Korean intelligence detected a seismic event at the site.
According to North Korea's central news agency, KCNA, the test was conducted safely with no leaks or danger. No excessive radiation has been detected in South Korea, according to that country's experts.
International Condemnation
The suspected nuclear test sparked condemnation from world, and regional powers.
South Korea warns it will deal "sternly" with the issue and will not tolerate a nuclear-armed North. "Even as we and the international community repeatedly warned them not to conduct a test, North Korea conducted a nuclear test on October 9," a presidential spokesman said. "Our government will take stern measures according to our principle not to accept the North's possession of nuclear weapons."
Taiwan expressed fear and said the test could trigger an arms race and undermine regional security.
Japan has said the test is "unpardonable" and poses a "grave threat" to the region. Japanese Prime Minister Shinzo Abe, on a visit to South Korea, said Japan will discuss the test with China and the United States.
"I know the statement on the nuclear test was issued by North Korea's news agency," Abe said. "A short time ago, I called and ordered the chief cabinet secretary to investigate it, and I will consult on this matter with China and the United States."
Japan's top government spokesman, Chief Cabinet Secretary Yasuhisa Shiozaki, said that "if it [the test] is proven, it will be a grave threat to stability in Northeast Asia."
China, North Korea's closest ally, says Beijing "resolutely opposes" the test and hopes Pyongyang will return to disarmament talks.
Russian President Vladimir Putin condemned the test, adding that "enormous damage has been done to the process of nonproliferation of weapons of mass destruction in the world. I hope [North] Korea will return to the negotiation process and I ask the [Russian] Foreign Ministry to conduct the necessary consultations in the UN Security Council."
The White House said it expects the UN Security Council to take "immediate action to respond to this unprovoked act." The council is expected to discuss the reported North Korean test today.
British Prime Minister Tony Blair called the test a "completely irresponsible act." The Foreign Office said the test was "highly provocative."
French Foreign Minister Philippe Douste-Blazy said the test is "a very grave act" that undermines international security.
Australia, India, Sweden, Norway, and other countries also condemned the test, with Australian Prime Minister John Howard telling parliament: "Australia will call on the United Nations Security Council to take swift and effective action against North Korea and impose strong measures under Chapter 7 of the United Nations Charter."
Failure Of Diplomacy
The reported test represents a failure for years of diplomatic efforts by world powers that have been trying to find a formula that would persuade Pyongyang to disarm.
The diplomatic efforts -- called the "six-party talks" -- involve the United States, Russia, China, Japan, and the two Koreas. The on-again, off-again talks are currently in suspension over Pyongyang's demands that Washington release recently frozen North Korean assets.
The declared test also marks a sharp change of course for North Korea, which has long claimed it has nuclear weapons but, at times, looked ready to abandon its weapons programs in exchange for aid and trade with the West and security guarantees.
North Korea is one of the world's poorest countries and depends on international food aid to stave off chronic threats of starvation.
Its economy is largely supported by trade ties mostly with China, and to a lesser extent Russia, and -- more recently -- has been helped by South Korea's "sunshine policy" of incipient efforts to develop trade and tourism ties.
Washington is now considered likely to try to persuade North Korea's trade partners to cut off economic ties to try to isolate Pyongyang further.
The U.S. ambassador to the UN, John Bolton, warned Pyongyang on October 6 that any nuclear test would bring a strong response. "North Korea should understand how strongly the United States and many other [Security] Council members feel, that they should not test this nuclear device and that if they do test it, it will be a very different world the day after the test," he said.
However, it remains to be seen whether Russia and China would support punitive measures. Both capitals say they want Pyongyang to disarm but fear for regional stability if the crisis is not solved through negotiations.
(compiled from agency reports)
Who's Got The Bomb?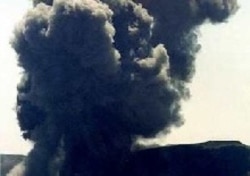 DECLARED NUCLEAR-WEAPONS COUNTRIES:
country warheads (est.) date of first test
United States 10,500 1945
Russia 18,000 1949
United Kingdom 200 1952
France 350 1960
China 400 1964
India 60-90 1974
Pakistan 28-48 1998
North Korea 0-18 2006
Notes:
Israel is widely believed to possess nuclear weapons, but it has not declared itself a nuclear-armed country.
South Africa constructed six uranium bombs but voluntarily dismantled them.
Belarus, Kazakhstan, and Ukraine all gave up the nuclear weapons that were on their territory when the Soviet Union collapsed in 1991.