Eight Jailed Over Murder Of Serbian Paramilitary Leader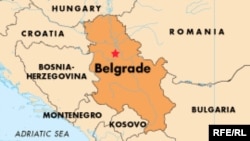 (RFE/RL) October 9, 2006 -- A Belgrade court today handed down 30-year jail terms to three men for the murder of the Serbian paramilitary leader Zeljko Raznatovic Arkan in January 2001.
Five others were given sentences ranging from three to nine years as accomplices.
Arkan was indicted in 1999 by the International Criminal Tribunal at The Hague on charges that he ordered the massacre of thousands of Muslims during the Bosnian war.
(AFP)