Kremlin Wants To Pay Parents For Second Child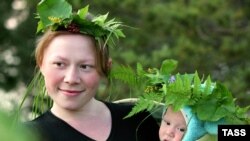 Young mother and child during the Russian summer solstice, Ivan Kupala Day, a pagan fertility rite that is now part of the Orthodox calendar (ITAR-TASS) October 12, 2006 -- The Russian government has approved a proposal that would give almost $10,000 to families that have a second child.
The bill will now be submitted to the lower house of parliament for approval.
Depopulation is seen as one of Russia's biggest problems.
The proposal seeks to encourage families to adopt or have a second child by offering them a one-off payment of 250,000 rubles, or $9,300. The first payments would be made available from January 1, 2010.
(Interfax, RIA Novosti)



UPDATED CONSTANTLY: Visit RFE/RL's Russian-language website, featuring news, analysis, features, streaming audio, and more, in Russian, from RFE/RL's Russian Service.
ARCHIVE
RFE/RL's English-language
coverage of Russia
.