In an interview with Fox News television, Bush said the creation of three autonomous regions would create even more chaos than exists in Iraq now.
Earlier, the White House said Bush continues to have confidence in the government of Iraqi Prime Minister Nuri al-Maliki, but that more must be done to quell the violence in the country.
White House spokesman Tony Snow described the violence level in Iraq as "absolutely unacceptable."
Snow said that in a personal telephone call to al-Maliki, Bush assured the prime minister that the United States has no plans to withdraw U.S. troops until Iraqi forces are ready to handle security.
(compiled from agency reports)
Sectarian Iraq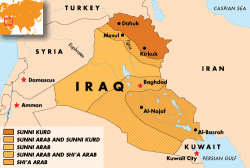 Click to enlarge the image.
SUNNI, SHI'A: Iraq is riven along sectarian lines, faults that frequently produce violent clashes and are a constant source of tension. Sectarian concerns drive much of Iraqi politics and are the main threat to the country's fragile security environment.


THE COMPLETE PICTURE: Click on the image to view RFE/RL's complete coverage of events in Iraq and that country's ongoing transition.