In a text adopted in Luxembourg on October 17, the bloc's foreign ministers expressed concern that Iran has not suspended uranium enrichment -- a process that creates fuel for nuclear energy but which can also be used for an atomic bomb.
The decision to back sanctions comes after more than three years of talks between Iran and the EU that failed to bring a diplomatic solution to the dispute over Iran's controversial nuclear activities.
'No Choice'
EU foreign ministers meeting in Luxembourg said in their final statement that "Iran's continuation of enrichment-related activities has left the EU no choice but to support consultations" on United Nations sanctions. Nevertheless, they said, the door to negotiations remains open.
Iran must act soon, as members of the UN Security Council are reportedly due to discuss taking measures against Iran this week.
EU foreign policy chief Javier Solana, who has been deeply engaged in talks with Iranian officials recently, said it's time for Tehran to accept the preconditions for real negotiations with Brussels.
Solana said after talks with Iran's top nuclear negotiator, Ali Larijani, that "there has been no change" in the crisis over Iran's refusal to give up sensitive nuclear work.
"I had the opportunity to talk [on October 16] with Dr. Larijani on the telephone," Solana said. "We have said that we maintain the door open to continued negotiations but for that it's necessary to enter into the serious negotiation phase; some decisions have to be taken also on the Iranian side."
No Change On Enrichment
Solana, however, said that the EU talks with the Islamic republic have not broken down.
"We were in the prenegotiation phase, we have not entered into the negotiation part so it's impossible [that] they have broken down," he said. "We would like to [make] all the efforts to enter into the formal negotiation phase. For the moment it's not possible because we have a very important hurdle that we cannot overcome."
The hurdle is Iran's uranium-enrichment program, which Iranian officials have refused to suspend.
Iran has ignored a UN Security Council resolution that demanded a suspension of uranium enrichment. Iran has also not accepted a Western package of incentives offered to Iran in order to persuade it to halt uranium-enrichment activities.
On October 17, French Foreign Minister Philippe Douste-Blazy said Iran's refusal to halt enrichment leaves the EU no choice but to take the issue to the Security Council. He said the UN Security Council should adopt "gradual, reversible measures [that are] proportionate to Iranian actions."
Iran Not Worried
Finnish Foreign Minister Erkki, whose country holds the rotating EU presidency, said sanctions were not discussed during the EU meeting.
"If and when the UN Security Council adopts any decisions, of course all EU member states will also implement them," he said.
Earlier this week, Alaeddin Borujerdi, the chairman of the Iranian parliament's National Security and Foreign Policy Committee, told Iran's ISNA news agency that the EU will be wasting a great opportunity if it leaves talks with Iran. Borujerdi said Iran would be harmed much less than the EU by such a decision.
Mark Fitzpatrick, a senior nonproliferation expert at the London-based International Institute For Strategic Studies, believes Iran has more to lose than the EU. He says Iran is facing UN Security Council sanctions and other measures that could limit or halt interactions with its trading partners.
"I don't know the exact nature of the sanctions but there are other sanctions that are also coming into place, financial sanctions not necessarily adopted by the Security Council," he said. "Iran is already paying a price of banks choosing not to engage in new operations, insurance companies not willing to insure new projects. So I think those in Iran's financial sector know very well who is paying the greater price and they might be asking themselves 'is it really worth it?'"
Tehran Buying Time?
The same day that the EU demanded a halt to Iran's enrichment activities, Iranian President Mahmud Ahmadinejad said on October 17 that countries that are seeking to dissuade Iran from "using nuclear technology for peaceful purposes" will be defeated.
Despite Iran's uncompromising rhetoric and defiance, Fitzpatrick says that it is still possible that Iran will return to the negotiating table.
"Mr. Larijani -- some time in the early discussions [with Solana] -- suggested that Iran could consider perhaps a three-month suspension; later he said no suspension at all and President Ahmadinejad said not even a suspension for one day," Fitzpatrick said. "So one wonders what was going on with Iran's position in these negotiations; were they just buying time or were there internal debates in Tehran that were reflected in this change of position? I think both factors were in play here and I don't think it's still totally impossible for Iran to consider a suspension."
Despite Tehran's intransigence on halting uranium enrichment, Brussels has said it remains committed to a negotiated solution to the issue that would contribute to the positive development of EU-Iranian relations. But Iran must act soon, as members of the UN Security Council are reportedly due to discuss taking measures against Iran this week.
Afraid Of Sanctions?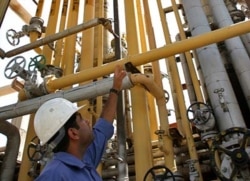 Comprehensive sanctions could further slow development in Iran's strategic oil and gas sectors (Fars)
WHAT DOES TEHRAN REALLY THINK? On August 22, Radio Farda correspondent Fatemeh Aman spoke with Alex Vatanka, Eurasia editor for Jane's Information Group, by telephone from Alexandria, Virginia. Vatanka discussed the possible impact that comprehensive sanctions could have for Iran.
Radio Farda: Some Iranian authorities are trying to create the impression that they aren't concerned about the possibility of international sanctions against it. They emphasize that what Iran has achieved so far has happened despite the sanctions already in place against it. Are they really not afraid of sanctions?
Vatanka: I think that what the Iranians are trying to do is to continue to play this balancing act. On the one hand, they are trying to say, "Look, we have done without you for 27 years; we can continue." On the other hand, if you look at every other major Iranian overture toward the U.S., obviously what they are hoping to do is remove those sanctions. It is the sanctions that have been the biggest obstacle to a genuine expansion in the Iranian economy. It is the sanctions and U.S. policies vis-a-vis Iran that have, for instance, kept Iran from joining the World Bank. It is sanctions and so on that have made the Iranian oil industry have such a tough time in bringing investment into the strategic oil and gas sectors. People like [former Iranian President Ali Akbar Hashemi-]Rafsanjani back in the mid 1990s even kept certain fields untouched because the idea was that U.S. companies should have those once the sanctions were lifted.
I think sanctions are quite important to the Iranians, but at the same time what they are trying to say is, "Don't assume that we are going to fall off our chair just because you mentioned the sanctions card." It is part of a kind diplomatic chess game going on by Tehran. But remember if we look and listen to Iranian reformists, this is being openly debated inside Iran. The question that is being asked of [President Mahmud Ahmadinejad and his entourage] is, "What is the ultimate objective?" Is it just Islamic independence? Is it just the ability to enrich uranium? The debate in Iran by the reformists -- and I think a lot of people would sympathize with this -- is, "What are we being sanctioned for exactly and what policies do you have to make sure that those sanctions don't hit us harder than we have already been hit?"
Remember, the big issue here is this: Iran has been sanctioned by the U.S. Iran has never faced comprehensive United Nations sanctions. The Iranian people have never suffered on a scale that the Iraqi people, for instance, suffered because of such sanctions. So it is kind of disingenuous of these senior leaders to pretend that Iran has already gone through comprehensive sanctions. Iran has not. And it will be totally different set of circumstances that will have a totally different impact on Iranian society and the economy, should the UN impose comprehensive sanctions on the country.


THE COMPLETE PICTURE: RFE/RL's complete coverage of controversy surrounding Iran's nuclear program.
CHRONOLOGY
An
annotated timeline
of Iran's nuclear program.