After the dinner meeting on October 20, the two sides reiterated their familiar positions and put off attempts at reconciliation until further talks.
EU Holds Its Fire
The 25 EU heads of state and government appeared to have achieved their aim of presenting Putin with a united front, but they also refrained from any direct criticism of Russia.
Not for the first time, the talks between EU and Russian leaders in Lahti were described by participants as having been "open and frank" -- diplomatic code for persistent differences.
Putin did not give ground on any of the EU's key demands -- access to Russia's pipelines, greater investment security, or a level playing field for foreign investors in Russia.
On the evidence of the press conference after the dinner-table talks, the two sides agree they need to make the best of their inevitable interdependence -- the EU's need for Russian oil and gas is on the increase, and it is also the largest outside market for Russian energy.
Finland's Prime Minister Matti Vanhanen, the host of the Lahti meeting and the current EU chairman, restated this goal in his summary of the talks.
"We heard President Putin's views on how Russia is developing its energy sector," Vanhanen said. "The union is aiming at building a close and legally binding partnership with Russia on mutually balanced long-term benefits."
An Unimpressive Common Line
At an EU summit that preceded the meeting with Putin, there was evidence the bloc had succeeded in closing ranks in an attempt to deprive the Russian president of opportunities to capitalize on their differences. Irish Prime Minister Bertie Ahern was quoted as saying that "even" Poland, the Czech Republic, and Lithuania -- among the fiercest critics of Russia -- had agreed to toe the line.
However, the EU common line appeared to be limited to restatements of known positions.
Speaking on behalf of the EU, Jose Manuel Barroso, the president of the European Commission, and Vanhanen were also conspicuous in refraining from direct criticism of Russia. Both the recent murder of Russian journalist Anna Politkovskaya and Moscow's crackdown on Georgia and Georgians living in Russia were mentioned only in passing and without any associated recriminations.
Addressing energy cooperation, Barroso described Russia as a "major strategic partner," which needs Europe "just as Europe needs Russia."
Barroso went on to enumerate a list of preconditions for what he called a "positive interdependence."
"We want our relationship with Russia to deepen. To achieve that, we need to develop mutual trust. That requires transparency, [the] rule of law, reciprocity, and nondiscrimination, along with market opening and market access."
Barroso's list is almost exclusively made up of shortcomings the EU attributes to Russia -- although he did not say so directly.

That Russia's intransigence is taking its toll was, however, evidenced by remarks made by German Chancellor Angela Merkel at the lunch with EU leaders, where the head of the bloc's largest country and Moscow's closest EU energy partner is reported to have said the EU urgently needs a "timetable" for the diversification of energy sources.
Putin Talks Tough
After dinner, Putin gave notice that Russia wants to predicate the entire partnership with the EU on energy cooperation.
"There's no doubt that Russia and the EU are natural partners in the [energy] sphere," Putin said. "But our interdependence only serves to strengthen the energy security of the European continent, and, as such, creates good preconditions for further rapprochement in other fields."
Putin said there could be "no security" unless the interests of all the partners are taken into account. The Russian president said he agrees with the market-based approach of the Energy Charter Treaty, which the EU wants Russia to ratify.
But Putin also did not give ground on any of the EU's key demands -- access to Russia's pipelines, greater investment security, or a level playing field for foreign investors in Russia.
Putin did not share Barroso and Vanhanen's apparent unwillingness to go into the detail. He offered a meticulous defense of Russia's recent moves to exclude foreign companies from developing the massive Shtokman gas field, obstacles put in the path of the mostly British-owned Shell in the Sakhalin-2 oil and gas field, and the closure of certain sectors of the Russian economy to foreign investors.
All these cases, he said, had rational explanations based in Russian legislation and on moves to improve it.
Putin did note that he leaves Lahti convinced that even the "most controversial" differences with the EU can be resolved.
What The Future Holds
The two sides will hold a summit meeting in Helsinki on November 24. The EU hopes to use that meeting to launch talks on a new comprehensive cooperation agreement to replace the current Partnership and Cooperation Agreement.
Putin said today he would like the new accord to be called a Strategic Partnership Treaty, but also suggested energy issues might need to be tackled outside of it.
Putin also addressed at length Russia's recent difficulties with Georgia. He attributed the blame for the tensions to the Georgian leadership, which in his words is "openly" seeking to resolve its conflicts in Abkhazia and South Ossetia by force.
"I maintain that, firstly, the drive to worsen relations does not emanate from the Russian side, but that it is done, in my view, with the aim of creating a politico-informational background conducive to resolving the Abkhazian and South Ossetian problems by force, by shedding blood," Putin said.
Putin said Georgia needs to "build confidence" with South Ossetia and Abkhazia. Putin said Russian-Georgian relations will improve once Georgia's relations with the two breakaway regions improve.
Russia And Global Energy Security
Russia And Global Energy Security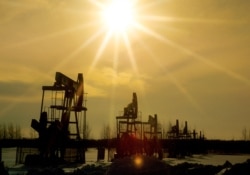 An oil field in Russia's Republic of Bashkortostan (TASS file photo)


ENERGY SECURITY is increasingly moving to the top of the EU's agenda in its dealings the outside world. A recent report identifies the European Union's main energy objectives as not just securing gas and oil deliveries from Russia, but also ensuring that it has reliable alternative sources, including in Central Asia. Nonetheless, EU officials say relations with Russia take center-stage in their thinking....(more)
RELATED ARTICLES
EU Maintains Codependent Energy Relationship With Russia
Turkmenistan: The Achilles' Heel Of European Energy Security
U.S. Official Urges Reforms In Energy-Producing Countries
ARCHIVE
A
complete archive
of RFE/RL's coverage of energy issues in the Caspian Sea region and Russia.