Most of the casualties came when bombs exploded at or near busy street markets.
In addition, four bodies of people shot to death were found near the southern port of Al-Basrah.
Meanwhile, Iraq's Defense Ministry warned today that "terrorists" disguised as soldiers are distributing a false telephone number for a supposed tip-off hotline.
In a statement the ministry warned citizens not to call the line, for fear of identifying themselves to militants. The ministry reminded the citizens of the correct numbers to contact if they see anything suspicious to report.
(dpa, AP, AFP)
Sectarian Iraq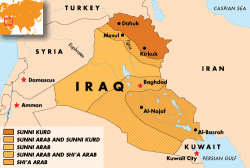 Click to enlarge the image.
SUNNI, SHI'A: Iraq is riven along sectarian lines, faults that frequently produce violent clashes and are a constant source of tension. Sectarian concerns drive much of Iraqi politics and are the main threat to the country's fragile security environment.


THE COMPLETE PICTURE: Click on the image to view RFE/RL's complete coverage of events in Iraq and that country's ongoing transition.