The agreements ranged from nuclear power to medicine. They were signed after talks between Chinese President Hu Jintao and French President Jacques Chirac in Beijing.
At a joint press conference after talks, Chirac reiterated his call for the European Union to lift its arms sales embargo on China. Hu welcomed Chirac's call.
The two leaders also expressed "serious concern" over the North Korean nuclear test crisis, saying the row should be resolved through diplomacy.
They also called on Iran to abide by a UN Security Council resolution that had set an August 31 deadline for it to give up some of its nuclear work or face sanctions.
Chirac is on the second day of a four-day visit to China, promoting French business there. He is traveling with a delegation of French business executives.
(Reuters, AFP, dpa)
Prague Energy Forum, October 23-24
Prague Energy Forum, October 23-24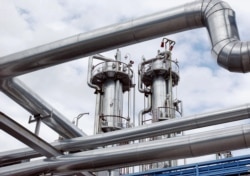 An oil refinery in Western Siberia (TASS)

STABILITY AND SECURITY: On October 23-24, RFE/RL and the Warsaw-based Economic forum cosponsored the Prague Energy Forum at RFE/RL's Prague broadcasting center. The Energy Forum brought together nearly 100 experts and policymakers from Europe, Central Asia, and the Middle East to discuss key issues of energy supply and security in the years to come.
HIGHLIGHTS: RFE/RL presents some of the key presentations from the Energy Forum and interviews with some participants:
Czech Premier Urges Reduced Energy Dependence On Russia
Interview: Nature A Bigger Threat To Security Than Terrorism
Russia Can Boost Security Through Transparency
Interview: Russian Expert Addresses Europe's Security Concerns
U.S. Official Outlines Concerns About Iran's Nuclear Program
Iranian, Western Experts Spar Over Tehran's Nuclear Ambitions
Experts Ponder Future 'Gas Wars'
Former U.S. Ambassador Says Kyiv Can Cope With Gas Price Rise
Interview: Tbilisi Bent On Energy Independence


MORE: Click on the image to see the conference program, participant list, and other materials.