Russian news agencies quote Lavrov as saying that any measures "should have a precise limitation on the period for their being in effect."

Lavrov says Moscow is prepared to accept measures against Iran concerning Tehran's disputed nuclear program.

Russia and China have been among the fiercest defenders of continued diplomatic efforts to negotiate over Iran's disputed nuclear activities without imposing sanctions.

Washington has pressed for economic sanctions to force Tehran to cease uranium enrichment and other sensitive activities, which U.S. officials have suggested are aimed at developing nuclear weapons.

Iranian officials have insisted their nuclear program is purely peaceful and that they have a right to harness atomic energy under the Nuclear Non-Proliferation Treaty (NPT), to which Iran is a signatory.

Meanwhile, at the United Nations, Russia has proposed amendments to a European draft resolution on Iran.

Russia's U.N. ambassador, Vitaly Churkin, said Moscow wants sanctions limited to measures that would keep Tehran from developing nuclear weapons or ballistic missiles in order to leave the door open for negotiations.

China's U.N. ambassador, Wang Guangya, said his country supports the Russian changes.

The UN nuclear watchdog, the International Atomic Energy Agency (IAEA), reported the Iranian nuclear dossier to the UN Security Council and has said it has not seen sufficient evidence to be convinced Iran's nuclear program is purely peaceful. The IAEA has also accused Tehran of obfuscation and refusal to cooperate with its efforts to monitor those activities.
Anger In Tehran
Meanwhile, in Iran today, thousands of Iranians turned up to celebration the 27th anniversary of the takeover of the U.S. Embassy in Tehran amid the 1978-79 Islamic revolution. Demonstrators chanted anti-U.S. slogans, including "Death to America! Death to America!"
Washington cut off official diplomatic ties with Iran in the midst of the hostage crisis, in which militant students stormed the embassy grounds and held more than 50 hostages for over a year.
Iranian President Mahmud Ahmadinejad and other Iranian officials have accused the West of seeking to derail the Iranian nuclear program in an effort to curb its technological progress and avoid a shift in the balance of power in the region.
Different Ideas
When the five permanent members of the United Nations Security Council met on November 3 to discuss a European draft resolution on Iran, Russia proposed amendments unacceptable to the West.
Russian Ambassador Churkin said Moscow wanted sanctions limited to measures to keep Tehran from developing nuclear weapons and ballistic missiles in order to leave the door open for negotiations.
The U.S. ambassador to the UN, John Bolton, said the Russian proposals were too broad to accept.
"The Russians gave us a complete line-in, line-out version of edits and I said the United States would have some other suggestions to make and we'll distribute our line-in, line-out text this afternoon, and in light of the extent of the Russian changes, we've decided that we'll refer all this back to capitals and meet again at some later date," Bolton said. "That's basically all that we decided."
U.S. To Present Changes, Too
Bolton said the United States would present its own amendments and the Security Council members would meet during the next week.
A European draft resolution called for sanctions banning the sale of missile and atomic technology to Iran and ending most UN help for its nuclear programs. The EU had proposed that Iran at least temporarily freeze enrichment as a condition for multilateral talks.
Ambassador Churkin would not detail the changes his country wanted on November 3. However, he said Russia thinks Iran has to be allowed to seek peaceful atomic energy.
"We think that the resolution we are discussing now should on the one hand preclude situations where people and countries could be helping the Iranians in developing uranium enrichment, in developing the means of delivering nuclear weapons, in developing things which could raise concerns about non-proliferation," Churkin said. "But at the same time, and this is very important, another key element of our philosophy, if you will, for this draft resolution is that it should leave the door open for our talks with Iranians."
Bushehr In The Balance?
A key concern for Moscow is the future of its $1 billion contract to build Iran's first nuclear power station in Bushehr.
The European draft resolution would impose certain limits on the Bushehr project but would not force an end to it. The draft exempts from sanctions the Bushehr reactor, but says Russia must check with a Security Council committee if it delivers material that can be used for weapons.
Ambassador Wang said Beijing also feels the current version of the resolution is "too tough."
"I think it's a bit too tough," Wang said. "It might corner the Iranians. But I believe that, China always argues that, first of all this case of the Iranians is different from North Korea, so you cannot just apply the same standards. Secondly, we believe that sanction measures taken by the Security Council has to be in stages. Thirdly, we believe that the sanction measures have to be in a way to put some political pressure on the Iranians to come back to negotiations."
Latest Effort
The new draft was a response to an earlier Security Council resolution demanding Tehran suspend its uranium-enrichment activities by August 31. It was drawn up after Iran rejected earlier UN demands that it suspend enrichment, which can be used in the production of either power stations or warheads.
The EU had previously offered economic and energy incentives if Iran temporarily suspended enrichment as a condition for talks on a peaceful nuclear program. No positive Iranian response followed.
(compiled from agency reports)
Afraid Of Sanctions?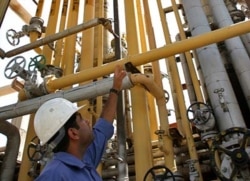 Comprehensive sanctions could further slow development in Iran's strategic oil and gas sectors (Fars)
WHAT DOES TEHRAN REALLY THINK? On August 22, Radio Farda correspondent Fatemeh Aman spoke with Alex Vatanka, Eurasia editor for Jane's Information Group, by telephone from Alexandria, Virginia. Vatanka discussed the possible impact that comprehensive sanctions could have for Iran.
Radio Farda: Some Iranian authorities are trying to create the impression that they aren't concerned about the possibility of international sanctions against it. They emphasize that what Iran has achieved so far has happened despite the sanctions already in place against it. Are they really not afraid of sanctions?
Vatanka: I think that what the Iranians are trying to do is to continue to play this balancing act. On the one hand, they are trying to say, "Look, we have done without you for 27 years; we can continue." On the other hand, if you look at every other major Iranian overture toward the U.S., obviously what they are hoping to do is remove those sanctions. It is the sanctions that have been the biggest obstacle to a genuine expansion in the Iranian economy. It is the sanctions and U.S. policies vis-a-vis Iran that have, for instance, kept Iran from joining the World Bank. It is sanctions and so on that have made the Iranian oil industry have such a tough time in bringing investment into the strategic oil and gas sectors. People like [former Iranian President Ali Akbar Hashemi-]Rafsanjani back in the mid 1990s even kept certain fields untouched because the idea was that U.S. companies should have those once the sanctions were lifted.
I think sanctions are quite important to the Iranians, but at the same time what they are trying to say is, "Don't assume that we are going to fall off our chair just because you mentioned the sanctions card." It is part of a kind diplomatic chess game going on by Tehran. But remember if we look and listen to Iranian reformists, this is being openly debated inside Iran. The question that is being asked of [President Mahmud Ahmadinejad and his entourage] is, "What is the ultimate objective?" Is it just Islamic independence? Is it just the ability to enrich uranium? The debate in Iran by the reformists -- and I think a lot of people would sympathize with this -- is, "What are we being sanctioned for exactly and what policies do you have to make sure that those sanctions don't hit us harder than we have already been hit?"
Remember, the big issue here is this: Iran has been sanctioned by the U.S. Iran has never faced comprehensive United Nations sanctions. The Iranian people have never suffered on a scale that the Iraqi people, for instance, suffered because of such sanctions. So it is kind of disingenuous of these senior leaders to pretend that Iran has already gone through comprehensive sanctions. Iran has not. And it will be totally different set of circumstances that will have a totally different impact on Iranian society and the economy, should the UN impose comprehensive sanctions on the country.


THE COMPLETE PICTURE: RFE/RL's complete coverage of controversy surrounding Iran's nuclear program.
CHRONOLOGY
An
annotated timeline
of Iran's nuclear program.