Ahead of the conference, the executive secretary of the UN Framework Convention on Climate Change, Yvo De Boer, told AP television that the delegates will talk about issues of concern to developing countries.
"The conference is going to deal with a number of issues that are of great concern to the developing countries," he said. "For example, the question of adapting to the consequences of climate change. We will be talking about technology transfer, and we will be talking about how developing countries can get more access to projects that will 'green' their economic growth and 'green' their energy sector."
Over the next 10 days, the delegates will also discuss what comes after the Kyoto Protocol, which requires industrialized countries to reduce greenhouse-gas emissions by 5 percent below 1990 levels by 2012.
Such emissions are held responsible for causing global warming.
Delegates will try to find ways to bring in countries that are not in Kyoto, including the United States, India, and China.
A British government study last week said the damage from unabated climate change could eventually cost up to 20 percent of global gross domestic product each year.
(compiled from agency reports)
Global Climate Change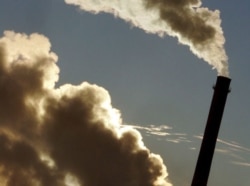 View a photo gallery summarizing some key findings of the Stern report on the economic costs of global warming (epa)

THE STERN REPORT: In October, former World Bank chief economist Sir Nicholas Stern issued a 700-page report on the economic impact of global warming. The report, which was commissioned by the British government, estimates that climate change could cost between 5 and 20 percent of global GDP by the end of the century....(more)
RELATED ARTICLES
Siberia's Once Frozen Tundra Is Melting
Blair Highlights Global-Warming Concerns
Scientists Argue About Need For Urgent Action
ARCHIVE
RFE/RL's
coverage of the environment
.