Speaking in Brussels, de Hoop Scheffer said NATO and the EU are in the business of providing security and should not be competing against each other. But he said competition is growing as the two try to win pledges of troops and equipment from national armies that already are stretched.
De Hoop Scheffer also said the EU and NATO need to coordinate their activities in Afghanistan. He said the EU could help by speeding up the training of an Afghan national police force.
Troops from the European Union are now engaged in 11 operations from Africa and the Balkans to Aceh in Indonesia. NATO has sent more than 50,000 troops to Afghanistan and the Balkans.
(Reuters, AP)
The Afghan Insurgency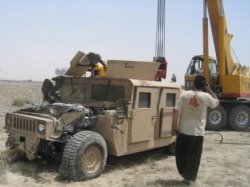 A U.S. military vehicle damaged by insurgents near Kandahar (epa)
HOMEGROWN OR IMPORTED? As attacks against Afghan and international forces continue relentlessly, RFE/RL hosted a briefing to discuss the nature of the Afghan insurgency. The discussion featured Marvin Weinbaum, professor emeritus of political science at the University of Illinois at Urbana-Champaign, and RFE/RL Afghanistan analyst Amin Tarzi.
LISTEN
Listen to the entire briefing (about 83 minutes):
Real Audio
Windows Media
ARCHIVE
RFE/RL's
coverage of Afghanistan
.
SUBSCRIBE
For weekly news and analysis on Afghanistan by e-mail,
subscribe to "RFE/RL Afghanistan Report."