The OSCE also said there were violations, including multiple voting.
"The lack of any serious campaign and credible alternatives undermined this election to a degree that it did not provide an adequate test of Tajikistan's commitment for democratic elections," the OSCE statement said.
Earlier today, incumbent President Imomali Rakhmonov was declared the winner of the poll.
"According to preliminary data and in line with Article 34 of the constitutional law of Tajikistan on n the election of the president of the Republic of Tajikistan," said Tajik Central Election Commission Chairman Mirzoali Boltuev, "Imomali Sharifovich Rakhmonov is considered to be elected president of the Republic of Tajikistan."
Final preliminary results gave Rakhmonov nearly 80 percent of the vote; his closest competitor received a little over 6 percent.
(with material from Reuters)

Tajikistan's Presidential Election
Tajikistan's Presidential Election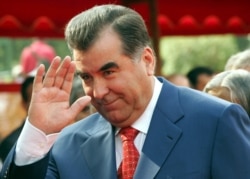 Imomali Rakhmonov has ruled Tajikistan since 1992 (epa file photo)


A THIRD TERM? On November 6, Tajikistan will hold its first presidential election since 1999. Incumbent President Imomali Rakhmonov is seeking a third term under controversial constitutional amendments adopted in 2003. The opposition has accused Rakhmonov's administration of using dirty tricks and legal pressure to split and weaken opposition parties. Most observers believe the November ballot will be less competitive than the 1999 election.
RELATED ARTICLES
Islamic Party Opts Out Of Presidential Vote
Opposition Disorganized As Presidential Election Nears
Lone Islamic Party Pursues Dual Path To Challenge Incumbent
Fractured Opposition Faces Uphill Battle Before Election
ARCHIVE
RFE/RL's
coverage of Tajikistan
. An RFE/RL web special on
Tajikistan's 2005 legislative elections
.
SUBSCRIBE
For weekly news and analysis on all five Central Asian countries by e-mail,
subscribe to "RFE/RL Central Asia Report."