EU: Activists Urge No Letup In Uzbek Sanctions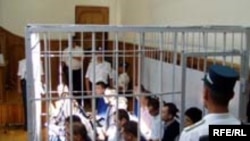 HRW's researcher in Uzbekistan said prisoners are treated "like dogs" (RFE/RL) BRUSSELS, November 7, 2006 (RFE/RL) -- The U.S.-based rights watchdog Human Rights Watch (HRW), one of the few Western nongovernmental organizations (NGOs) with representatives working in Uzbekistan, warned on November 6 that the EU will be making a major error if it decides to relax or abandon the sanctions in place against the country.
EU officials will meet Uzbek representatives in Brussels on November 8 and there are indications the union might relax or even abandon the measures put in place in October 2005 after Tashkent refused to allow an independent international inquiry into the shooting deaths of scores of demonstrators in the town of Andijon.
If the EU givess up "the sanctions now, they give up the most
important piece of leverage that they have, and the Uzbeks would have
absolutely no reason to engage."
Reacting to reports that several EU members are arguing that because the sanctions have not worked they have become an impediment for the union, Veronika Szente Goldston, HRW's advocacy director for Europe and Central Asia, said lifting sanctions would leave the EU powerless to influence Uzbekistan.
If the EU gives up "the sanctions now, they give up the most important piece of leverage that they have, and the Uzbeks would have absolutely no reason to engage," she said. "The only reason that the Uzbeks would be wanting to engage in any kind of dialogue with the EU would be to see the sanctions lifted."
Szente said the EU's own integrity as a human rights defender is at stake now that the UN's human rights body has failed to take action against Uzbekistan and the United States has also refrained from pursuing the matter.
EU Takes A Stand
In October 2005, the EU imposed a visa ban on 12 Uzbek officials considered responsible for either the Andijon events or for hindering attempts to investigate them. The EU also suspended parts of its Partnership and Cooperation Agreement with Uzbekistan, vowing to refrain from political contacts. An arms embargo was also announced.
EU diplomats now say Germany, the next holder of the EU's rotating presidency beginning in January, wants to limit sanctions to the predominantly symbolic arms embargo. EU ambassadors will discuss the issue on November 7. The following day, the EU will hold a ministerial-level Cooperation Council with Uzbekistan in Brussels. The final decision on the fate of the sanctions will be made by the EU foreign ministers, who will meet in Brussels on November 13.
By most accounts, Uzbekistan has indicated it is willing to talk about Andijon at the level of experts, relaunch a "human rights dialogue" with the EU, and bring forward the date of the promised abolition of the death penalty from 2008 to 2007.
This falls far short of the EU's initial demands, which stipulated that Uzbekistan must ensure the fairness of all Andijon-related trials, not persecute those questioning the Uzbek government's version of events, allow an independent international inquiry into the event, and respect human rights and the civil society.
Situation Deteriorating
Andrea Berg, HRW's Tashkent-based researcher, is one of the very few Western NGO representatives allowed to stay in the country. She said on November 6 that since October, when she took up her present position in Uzbekistan, the situation has noticeably deteriorated.
"Since January 2006 until now we have 12 local human rights defenders sentenced to prison terms between 3 1/2 and 10 years," she said. "I monitored some of these 12 trials and have to say that this was organized like a puppet theater."
Berg said rights activists on trial are regularly treated "like dogs," denied the most basic comforts, rarely allowed to see their relatives, and are tried for infractions such as "hooliganism" or "slander," which have no bearing on their predicament.
Berg said that at the trials involving more than 300 Andijon-related defendants, no one has been held accountable for the massacre itself.
Contrary to the EU's demands, Uzbek authorities have also closed down virtually all Western NGOs. HRW is one of the very few exceptions, but Berg says she could be expelled "at any moment."
Domestic human rights activists and their families are constantly monitored and harassed.
Split Within EU
The main force behind the drive within the EU to reverse the sanctions, Germany, is looking to revive the EU's relations with Central Asia. Uzbekistan is one of the countries in the region the EU views as potential energy suppliers, but that is likely to remain a secondary consideration in the absence of an effective means of bypassing Russia. Germany also maintains a military air base at the southern Uzbek town of Termez.
Germany is said to be supported by Spain, with France still undecided. All three are also among those EU member states looking to improve ties with Russia.
Britain, the Netherlands, and the Nordic countries are said to resist easing sanctions.
HRW's representatives appeared bemused at the EU's decision to call a meeting with Uzbek officials before it has managed to agree on a common position among its own member states.
Berg also criticized the fact that some member states do not appear to consider joint sanctions binding for bilateral contacts. "So, several of the EU countries, among them Germany, just continued their bilateral cooperation with Uzbekistan," she said.
HRW representatives also said that the EU's newly appointed special representative for Central Asia, Pierre Morel, sent "completely the wrong" signal -- failing to meet any Western NGO personnel or local rights activists when he visited Tashkent last month.
Uzbekistan, Russia, And The West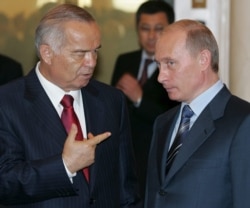 President Karimov (left) with Russian President Putin in July 2005 (epa)


BETWEEN EAST AND WEST: One of the ramifications of the May 2005 bloodshed in Andijon has been a souring of relations between Tashkent and the West, accompanied by a raproachment between Uzbekistan and Russia. Following sharp U.S. and European criticism of the Andijon crackdown, Uzbekistan kicked the United States out of the Karshi-Khanabad air base and began actively courting Moscow.
"Today, we are reaching an unprecedented level in our relationship," Uzbek President Islam Karimov said during a November 2005 summit with Russian President Vladimir Putin, at which the leaders signed a strategic-partnership agreement. "I understand and we all understand in Uzbekistan that it is unprecedented that Russia signs such a partnership agreement with Uzbekistan."
RELATED ARTICLES
Germany Likely To Leave Uzbek Base
The Geopolitical Game In Central Asia
Uzbekistan: Between East And West
Central Asia: Russia And U.S. Often At Odds In Region
Russian, U.S. Military Bases On Opposite Tracks
Swiss Spokeswoman Explains Arms Ban On Uzbekistan
Putin Defends Ties With Uzbekistan, Belarus, Iran
Uzbekistan: Playing Russia Against The West
Factbox Of Uzbek-Russian Relations


THE COMPLETE STORY: A dedicated webpage bringing together all of RFE/RL's coverage of the events in Andijon, Uzbekistan, in May 2005 and their continuing repercussions.
CHRONOLOGY
For an annotated timeline of the Andijon events and their repercussions, click here.