German officials say Steinmeier expected to be discussing topics that include Central Asia's growing importance as a source of energy. But Steinmeier's main aim is to investigate firsthand the prospects for forging a unified European Union policy toward the region as Berlin prepares to assume the EU Presidency in January.
Germany has said it wants to make development of EU relations with Central Asia a priority of Germany's EU Presidency.
Getting Acquainted
With this in mind, Steinmeier is in Central Asia to gather impressions on how a common EU policy on the region might be formulated. The German Foreign Ministry told RFE/RL that Steinmeier's trip is "exploratory" and that this is the first time a foreign minister has visited all five republics in a row.
"There is a lot of competition in Central Asia at the moment, from Russia, from China, [and] from countries like Japan, Korea, and India."
Regional expert Matthew Clements of Jane's analytical organization says European interest in Central Asia has two strands. One is the desire to secure a share in the region's oil and gas resources, particularly in view of the Europeans' fear of overdependence on Russia. The other is to promote democratic government and stability in the region.
But Clements says Europe is not alone in turning its attention to Central Asia.
"There is a lot of competition in Central Asia at the moment, from Russia, from China, [and] from countries like Japan, Korea, and India," Clements says. "I think we will see that Europe does not want to be left out, it wants to have some say in those areas where its energy is produced."
Clements says a clear common policy is needed in place of the present "pretty weak" bilateral links between European countries and Central Asian states.
...And Offering Advice
Steinmeier started his trip in Kazakhstan, where on October 31 he appealed for comprehensive reform throughout the whole region. He said German investment --- and by implication other European investment in the area -- depends on strengthening the rule of law.
After talks with Prime Minister Daniyal Akhmetov and others, Steinmeier called Kazakhstan one of the most politically open countries of Central Asia. He said that openness has contributed to the "adventuresome" economic growth that resource-rich Kazakhstan is experiencing. The timing of his comments appears to represent an oblique recommendation of Kazakhstan's path to the other Central Asian republics.
On the next leg of his trip, in Uzbekistan, Steinmeier said the European Union is willing to lift limited sanctions it imposed in the wake of the Andijon incident in May 2005, when protesters were shot down by Uzbek security forces.
But in exchange for such a move, the EU wants a clear commitment from President Islam Karimov that Uzbekistan's human rights situation will be improved. The two sides hold talks in Brussels on November 8, and Uzbekistan is being encouraged to present definite proposals at that meeting.
There is plenty of scope for improvement in Uzbekistan's performance, according to Angelika Graf, a prominent rights activist in the lower house of the German legislature, the Bundestag. Graf, who has just visited Tashkent with a parliamentary delegation, tells RFE/RL that she regards that country as a "police state."
"In my view, Uzbekistan is a police state, and this is reflected in the human rights situation there," Graf says. "We talked with [local] activists, and their descriptions were depressing. Some of them had been in prisons or psychiatric institutions because they said things the authorities did not like. From that alone, I conclude that the rights situation in Uzbekistan is not good."
'Soft Power'
The willingness of the EU to remain engaged with Uzbekistan -- and even more so with Turkmenistan and its oppressive regime of President Saparmurat Niyazov -- illustrates the EU's policy of projecting "soft power." The approach centers on persuasion rather than punishment.
In pursuit of this policy, Steinmeier visited Turkmenistan on November 2. He held three hours of talks with Niyazov but admitted to journalists afterward that they were unable to overcome "differences."
"The reason for my trip to the Central Asian countries and my trip [to Turkmenistan] is something you may have heard about," Steinmeier told reporters. "In the EU, I am trying, with a view to Germany's half-year leadership of the [European] Council [of the European Union] next year, to seek a new joint EU approach to Central Asia."
Steinmeier also managed to win permission for Graf's Bundestag delegation to visit. The parliamentarians tried to gain entry to Turkmenistan on their last trip to the region, but were unable to obtain visas.
Graf says she has low expectations of the situation they will find there. "From everything I know, the [rights] situation is still considerably worse in Turkmenistan than in Uzbekistan."
Steinmeier's itinerary includes a visit on November 4 to Kyrgyzstan. That visit comes as protesters on the streets of the capital, Bishkek, and elsewhere are calling for President Kurmanbek Bakiev and his team to resign if he does not implement constitutional and other reforms.
The renewed political tension in Kyrgyzstan illustrates the dangers to stability in Central Asia, and arguably underlines why the EU wants a common policy to exercise its influence more effectively.
Kazakhstan And The OSCE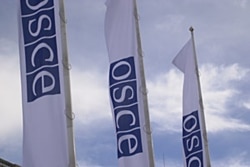 READY TO LEAD THE OSCE? Kazakhstan has been lobbying to be granted the rotating chair of the Organization for Security and Cooperation in Europe (OSCE) in 2009. In March, current OSCE head Karel De Gucht visited the country and said Kazakhstan is better prepared to head the OSCE than any other Central Asian country. But concerns about the state of democracy, the media, and ethnic relations make Kazakhstan's bid extremely controversial....(more)
RELATED ARTICLES
OSCE Says Kazakh Presidential Vote Flawed
OSCE Says Kazakh Obligations Not Met Ahead Of Vote
OSCE Offers Amendments To Kazakhstan's Draft Media Law
ARCHIVE
RFE/RL's
coverage of Kazakhstan
. The website of
RFE/RL's Kazakh Service
.