Kazakh media report the talks focused on bilateral economic issues and Kazakhstan's bid to join the World Trade Organization (WTO) and chair the Organization for Security and Cooperation in Europe (OSCE) in 2009.
Akhmetov told reporters Steinmeier conveyed an invitation for President Nursultan Nazarbaev to visit Germany on January 30, 2007.
Germany is Kazakhstan's fifth-largest foreign investor. Trade volume between the two countries is expected to reach $2 billion by the end of the year.
Germany's dpa news agency quotes Steinmeier as saying today that Berlin's increased economic presence in Central Asia will depend on progress made by regional governments in establishing rule of law.
The German foreign minister is on a week-long Central Asian tour that will also bring him to Uzbekistan, Turkmenistan, Tajikistan, and Kyrgyzstan.
Germany is due to take over the European Union's rotating presidency on January 1. It has announced plans to craft a single EU policy toward Central Asia during its tenure.
(Kazakhstan Today, Interfax-Kazakhstan, Kazinform, dpa)
Kazakhstan And The OSCE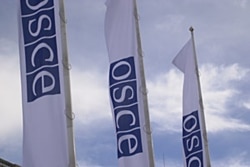 READY TO LEAD THE OSCE? Kazakhstan has been lobbying to be granted the rotating chair of the Organization for Security and Cooperation in Europe (OSCE) in 2009. In March, current OSCE head Karel De Gucht visited the country and said Kazakhstan is better prepared to head the OSCE than any other Central Asian country. But concerns about the state of democracy, the media, and ethnic relations make Kazakhstan's bid extremely controversial....(more)
RELATED ARTICLES
OSCE Says Kazakh Presidential Vote Flawed
OSCE Says Kazakh Obligations Not Met Ahead Of Vote
OSCE Offers Amendments To Kazakhstan's Draft Media Law
ARCHIVE
RFE/RL's
coverage of Kazakhstan
. The website of
RFE/RL's Kazakh Service
.